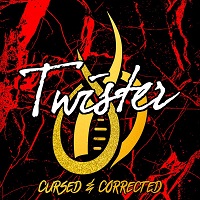 Twister have been kicking around the scene for a long time (some of the gigs listed on their socials go back to 2013), but this is the first official release of theirs on HRH's Off Yer Rocka offshoot. So, what have they been doing for seven-plus years? Well, touring by the look of their past events page for this period they have been making noises in various circles (playing on the same bills as Status Quo, Bumblefoot and Scouting for Girls to name a few) this is a band that is new to me, so they don't do South Wales very often. 
The first thing that hits me about the album is the mix: it is clean and missing the muddiness of some first albums with all the instrumentation and vocals sitting well in it.  I hate music where the vocals are buried under the drums or guitars.
Whilst labelled as "NWoCR" there appears to be some other stylistic mixes within the songs.  There's the odd pop track ('Monroe' could be one), there's the obligatory ballad in 'Mystery' (which I like a lot) and the "angry young men" single 'Call To Arms'.
At first listen there are some good tracks-nothing that grabbed me by the cojones and said "listen to ME" (very few albums do that when you have been listening to music for more than 40 years).  There is nothing wrong with the musicality or writing, but it's not a "WOW" moment, rather a "grower".  Having listened to it a few more times it is getting to that point. There is some very good instrumentation from all the musicians; I especially like the intro instrumental track which indicates things to come. The only downside for me is the amount of vibrato used in the vocals of Stevie Stoker (but this is a personal thing not a direct criticism).
The guitar work of Stoker and Jake Grimes varies from clean and clear riffs to heavily distorted work this is well demonstrated in the title track 'Cursed & Corrected'.  The rhythm section of Ryan Lee (bass) and Jack Corbett (drums) drive many of the tracks well and both are given their place well in the mix of all the tracks.  The backing vocals of all the other members support Stoker well.
On the whole, it's a good first album. I will still go and see them if they are in the vicinity, and that's my acid test.  Many fans will love it, I'm sure, but as with all music it's a taste thing…
'Cursed & Corrected' is out now. You can get your copy HERE.
All content © Über Rock. Not to be reproduced in part or in whole without the express written permission of Über Rock.