Review by Jonny Bakes. Interviews by Bona Pjarren
Hordes of drunken barbarians descended upon the streets of Sheffield this past weekend in a manner reminiscent of the origins of Yorkshire, and this time it wasn't because of the Sheffield derby. No, instead they were making their way down to the O2 Academy for the third instalment of HRH's Viking festival for a weekend of metal and debauchery and I simply couldn't resist getting involved.
Loki himself seemed to be plaguing the festival with announcements of new flavours of Covid and increased travel restrictions, but this did not stop the organisers from pulling out all the stops to ensure that the event was able to continue. Okay, this meant some unfortunate last-minute substitutions (most notably to the two headliners) where bands were unable to travel but nevertheless, we were determined to have a good time and quaff a few ales while we were at it!
Inexplicably, a shortage of taxis meant that I missed out on Valafar and Battle Born opening up the main stage after being bumped up from their original slots on the second stage. I have it on good authority that both bands put on great sets, and after catching Battle Born at Bloodstock earlier this year, I'm sure that they will have put on an equally good set for the HRH crowd. While I may have missed their set, that didn't stop our top-dog interviewer grabbing them for a quick chat!
As it was, Vanaheim ended up being my first band of the day when I made it to the venue. These guys had managed to defy the odds and break their way into the country from The Netherlands, in true Viking fashion, to bring their pagan/folk metal to Sheffield. I was struck by the relative sparseness of the crowd initially (I'm sure I remember HRH Vikings I being packed to the rafters) but that didn't stop Vanaheim putting on a set that was so good they had to do another one later on the second stage! The mixture of pagan chanting and thundering drums in 'The Dwarven Chant' is exactly what I was looking for out of today and proved to be the perfect way to start my foray into HRH Vikings!
I made my way upstairs to check out the familiar faces of Enquire Within (who I saw at the HRH Metal pre-party in 2020 just before "the bad"). While not distinctly "Viking" per-se, Enquire Within have a pretty infectious groove to their broadly metalcore sound that has a  way of getting everyone moving. Considering the small number of artists remaining on the second stage, it would have been nice to alternate the main and second stages so that I could have stuck around to watch all of Enquire Within but, alas, the stages overlapped so I made my way back to the main stage. It was here that I briefly caught Fen with some impressive atmospheric black metal that has just a touch of progginess (is that even a word?) that makes for quite an interesting mix!
Winterfylleth were the next band up for me, and a bit of a household name in comparison with the earlier bands. Musically, Winterfylleth sit firmly at the heavy end of the spectrum with their Anglo-Saxon themed black metal. Blistering drums and distorted riffs galore, it was an impressively tight performance from the stalwarts of the UK metal scene, but the crowd gathered before them didn't seem to quite know what to do about it! I suspect if you'd come in for a bit of a drunken jig and some Viking silliness, WInterfylleth may have missed the mark for you!
That aside though, the performance was pretty spectacular and had me nice and prepared for my foray to the second stage where NahemiA were about to take to the stage. A lot of effort had clearly been put into the introduction for this set as I was greeted by dim red lights and low ominous throaty chanting that heralded the arrival of NahemiA onto the stage. This was some seriously nasty Mayhem-worshipping black metal that sends shivers down your spine with the sheer venom with which the vocals are delivered. I wasn't able to stick around long as I was keen to get back to the main stage and catch the final act of the night.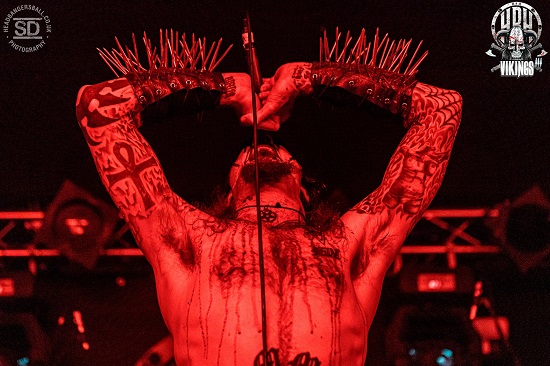 I've wanted to see Saor for a good while now so, although I was disappointed at the loss of Ensiferum, this was a pretty great last-minute addition to the HRH Vikings line up for me! The atmospheric folk-tinged black metal is superb and the strong links to Scottish heritage (Andy himself referring to the music as "Caledonian metal") provides a great atmosphere. Strangely, I've always found that the music is almost as relaxing as it is heavy which is why I'll often turn to Saor when I fancy having a mellow evening with a large whiskey, so it was a little bizarre having them close out the first day at a raucous Viking themed event. I ended up having a little sit down and allowing the music to wash over me, getting lost in the atmosphere. Meanwhile others were doing their best to keep the party going, waving their inflatable swords and going hell for leather in the pit!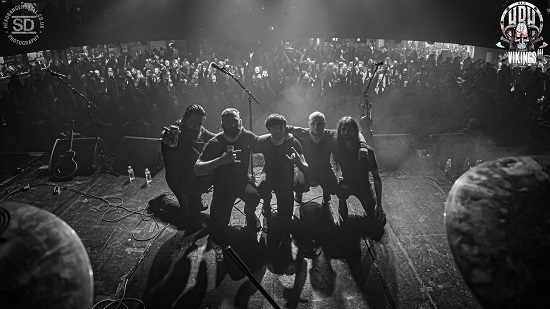 Naturally I made my way to the nearest purveyor of ales and music to continue the night and muse over what had been my standout band of the day – It ended up being a pretty close call between Saor and Vanaheim. Both of them put on fantastic sets (and I gather the second set from Vanaheim was just as good, if not better) but I felt that Vanaheim had the energy that I was craving that day so they just about tipped it! However, I can safely say that I'll be making sure to catch Saor at one of their own headline events to be able to get the full experience!
PHOTO CREDIT: All photos © SD Photography/HRH. Copyright remains with the photographer.
HRH Vikings returns to the O2 Academy over the weekend of 3/4 December 2022. Tickets are on sale now.
All written content © Über Rock. Not to be reproduced in part or in whole without the express written permission of Über Rock.