By Jonny Bakes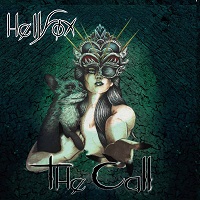 In an industry that is still pretty dominated by male acts, it's often a bit of a head turner to come across an all-female metal band. So, it's no surprise that, when such a rarity dropped onto the doormat of ÜRHQ, I couldn't resist the temptation to pick it up and take it for a spin. With a striking green cover depicting a masked woman carrying a fox, 'The Call' is my first introduction to this Italian alt-metal band and, as it is their debut, it could be yours too…
Striving to move away from the symphonic metal genre, which seems to be a common home for bands featuring female vocalists, Hellfox have carved their niche in the melodic death metal camp. Citing influences such as Dark Tranquillity, Amorphis and In Flames, Hellfox's style is born out the varied music tastes of the individual members which is thrown into a big old melting pot, from which 'The Call' is the finished product. The combination of the two vocalists, sporting melodic vocals and death growls respectively, is a key focus and comes across as a fight between the two (as is often the case) but this is not the intent. In fact, the band themselves say that it's "the result of different voices interacting in the human soul" which puts it in a far more eloquent way than I could manage.
Clocking in at just over 30 minutes, 'The Call' is an easily digestible album full of catchy riffs and strong composition. With seven tracks of completely new material, there's only one track on the album that may be familiar to those who have stumbled across Hellfox already – a remastered version of 2020's 'Dead Star' which is likely to grab even more attention than the first go around. The melodic, yet heavy, stylings of the tracks is a very refreshing change from the operatic nature of symphonic metal and appeals strongly to my own tastes (my love of melodeath is pretty widely known). The guitar work is particularly impressive and really captures the influence from the likes of In Flames with riffs that not only sound great but seem like they would be fun to play too (as a drummer, I wouldn't know where to start though!).
Standing out are a couple of tracks – 'Raising' and the remaster of 'Dead Star'. The former is a dark introspective that captures the energy of someone who is embracing their own dark nature and beginning to succumb to the rush that it brings. Hell, if this was in a movie, it would be around the time that the lead character transforms from the quiet innocent type to someone who lives life on the edge chasing anything that can provide a bit of a rush. 'Dead Star', on the other hand, feels like it could be a very effective radio single as it is the one that stuck in my head the longest (and not just because it was the last track). The chorus melody is seriously catchy and provides the hook that really catches your attention which would explain why it raised more than a few eyebrows when it was unleashed a couple of years ago.
All in all, I think that Hellfox are a band to keep an eye on. 'The Call' is a pretty solid debut album that brings together varied influences and combines them into something that is refreshingly different. There's still some growing to do but there is a significant amount of potential that means that this album deserves at least a cursory playthrough!
'The Call' is out now. You can get your copy HERE.
www.facebook.com/HellfoxOfficial/
All content © Über Rock. Not to be reproduced in part or in whole without the express written permission of Über Rock.