By Bona Pjarren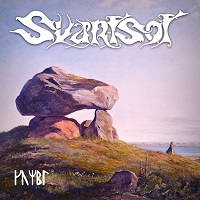 Although it is now quite a while since Svartsot have released new material, the band is still very much alive and kicking. In the interim since 2015's 'Vældet', the beer-soaked folk metallers have been active on the live scene in Denmark and abroad, including appearances at various major festivals as well as at the prestigious 70000 Tons Of Metal cruise in 2019. After a change of bassist and the decision to shelve an album's worth of material in 2017/18, the idea of releasing a collection of traditional folk songs that have inspired the band, reworked in Svartsot's characteristic style, was spawned.
The original idea was to release this fifth album, which takes its name from an old Danish word meaning 'monument' or 'memorial', in 2020, to coincide with Svartsot's 15th anniversary. However, due to various practicalities, the album was first recorded – by the band's drummer and up-and-coming producer, Frederik Uglebjerg – during the pandemic. The release also marks the band's first collaboration with Danish metal label, Mighty Music.
'Kumbl' features 12 tracks that present a mixture of some relatively unknown and other more popular folk and late medieval songs from Denmark and across Northern Europe. Two songs feature guest vocal appearances by Andrea Uglebjerg, vocalist in the Danish punk band Situationsfornærmelse and sister of Frederik.
So that's all the blurb from the label with a potted history, but what is the album like?
The first track is 'Den Hoboeken Dans', a reworking of a renaissance dance tune from Tielman Susato's 'Dansereye' collection first published in 1551. It is an energetic folk style piece that definitely gets the feet tapping, featuring a strong folk style track with metal undertones.
With the second track, 'Nu Stander Landen I Vade' which I believe is Dutch in origin, but I have no translation for it. The metal elements are very much to the fore, but it still retains folk elements. The offerings so far are very listenable, strong melodies melded with robust metal. 'Carmen Vernale' ­- a song from around 1500, written by Morten Børup, cantor at Aarhus Cathedral, praising the arrival of spring and performed in the original Latin (the melody is played each hour by the bells of Aarhus Townhall) – is perhaps a little more laid back compared with the first two tracks but still retains a dance like quality that seems to flow through the album thus far. The extreme vocals add a grittiness to the tracks.
'Ebbe Skammelsøn' follows and it seems the dance vibe might well flow through the whole album; it does make for easy listening, if you can say that about a metal band. It's based on a Danish song and is really the saga of Ebbe Skammelsøn. I have to say I am enjoying this album so far, on a first listen, and could imagine this track going down well with any folk metal audience.
'Kragevisen', which means 'monument', follows and is a lively jig that evoked memories of me growing up and attending various traditional folk dances, Scottish and European Circle dancing, they were wonderful events. This track rips along and is totally addictive and evocative. 'Villemand' is a popular ballad with versions from various Scandinavian countries. It is a tale where a man saves his bride from a merman by playing his harp. Svartsot have certainly picked some exciting music for this album. This track starts as a predominately acoustic piece that builds into a full-blown metal track.
When Hans Christian Andersen went to Rome in 1833, he took with him a collection of medieval Danish folk songs: 'Liden Kirsten' – a traditional Danish folk ballad telling the tale of how a king decided to make the lady of his desires the mother of his children and his queen without telling her first – was one of them. The lead single from the album, Svartsot's rendition of this song is a robust slab of metal that storms along while retaining traditional dance elements. It is a bold interpretation of the original.
'Rottefængeren' translates into 'The Rat Catcher' and I believe it is another story popularized by Hans Christian Anderson. It's another very catchy track and has a bit of a pirate metal feel about it. It is probably my favourite track so far. 'Den Store Stygge Stimand', or 'The Big Ugly Stiman' is an instantly recognizable traditional folk track given the usual Svartsot metal treatment. Beautifully played with an interesting interlude, this is turning into quite a good album.
'Drømte Mig En Drøm' ('I Dreamt A Dream This Night') is an elaboration on the oldest recorded Danish song, being handed down to us in a runic manuscript from ca. 1300, and beautifully treated in this rendition with sensitive guitar parts intertwinded with pipes. 'Ramund' is an old Danish folk song about the feats of Ramund The Young. Starting with a nicely intricate arrangement it soon launches into a raucous rendition that builds into an epic track.
'De To Ravne', or 'The Two Ravens' is unashamedly a metal track that remains true to the traditional folk roots of the original. The extreme growls and screams really do add another dimension and alongside the distorted guitar give a stark backdrop to the subtler more melodic aspects of this arrangement. 'Twa Corbies' is I believe the British version of this ancient song.
This is a really good rethink of some classic traditional folk and medieval tunes. It is upbeat and well imagined. Some of the tracks, like 'De To Ravne' could easily become a dirge in less talented hands, but Svartsot skilfully avoid this trap and deliver an inspiring reworking of a collection of traditional folk songs. It appeals to me in the same way that Finntroll or Alestorm do. 'Kumbl' is a very accessible heavy folk metal album that is essential listening. Can't wait to see them do some of this live.
'Kumbl' is released on 25 February. You can get your copy HERE.
All content © Über Rock. Not to be reproduced in part or in whole without the express written permission of Über Rock.