By Jonny Bakes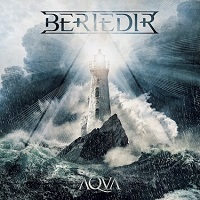 I picked up this album to be greeted by a real combination of words to describe the genre. "Power Prog Melancholic Metal" declared the press release for Beriedir's sophomore release 'Aqva', and I couldn't help but be curious as to how that combination would sound. The combination of power and prog is not an unusual one for me, and this generally results in powerful epic music with upbeat energy, but to take that in the opposite direction and make it melancholic? That's a new one for me.
Like many bands that Beriedir cross genres with, there is an influence from Tolkien in their name which is the term for "guardian" in the Elvish language. However, this influence doesn't necessarily manifest itself in the lyrics where these focus more on individual tales that are far from upbeat, like 'The Dove and the Serpent'. This dark and brooding nature hints at a pretty strong influence from the likes of Dream Theater which also comes across in the music. For Beriedir, the sliding scale between power and prog is heavily weighted towards the prog end, which gives them room to explore these melancholic themes without feeling the need to weave epic tales and concept albums like fellow Italians Ancient Bards. Musically, the synth plays a significant part in each track adding a layer of complexity to the already intricate mix of instruments, whilst also bringing an eerie nature with the tone of the organ voice that is heavily used.
While there isn't a massive overarching fantastical story that binds this album together, each track has its own story that often explores human nature. As the title of the album suggests, 'Aqva' is an album that flows through different themes and ideas much like a river flowing through different areas of countryside, towns and villages. There are songs about humanity's obsession with comparing themselves to the stars and the feelings of inadequacy this invokes ('The Angel in the Lighthouse'), suffering, departure, regret and the acceptance of loss. It really is very dark in its nature and encourages the listener to take an introspective view which some may find uncomfortable while others would praise this focus on the less shiny parts of life. All of this makes it an album that has a time and place which, as you may have gathered, isn't booze up party time. Instead 'Aqva' is an album that should be appreciated in slower time and may take a few listens to really let the themes sink in.
'Rain' is one of the tracks that stood out to me as I took my first voyage through 'Aqva'. This is a track that expresses feelings of nostalgia, guilt and regret whilst being soaked by a cleansing rain. As the song progresses it drifts into anger as the music gets harder and heavier, developing into a chugging rhythm with short passages of lyrics which in turn gets cut by short melancholic piano piece. The highlight for me though, is the almost banshee-like vocals from Stefano as the song reaches its climax before the closing solo as it caught me completely by surprise!
Overall, 'Aqva' is a solid second outing from Beriedir. While the melancholic nature may not suit everyone, it would certainly appeal to fans of Dream Theater and perhaps Dark Tranquillity too. For me, it's an album that I did really enjoy, particularly the way that the album weaves its way through different aspects of the darker side of human nature. However, it is an album that would only come out to play if I was in a specific mood which means it's unlikely to end up in my list of regular plays but it does still deserve a spot in my collection!
'Aqva' is out now. You can get your copy HERE.
www.facebook.com/BeriedirOfficial/
All content © Über Rock. Not to be reproduced in part or in whole without the express written permission of Über Rock.