By Steve Mirsik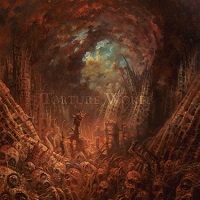 Things have just got incredibly heavy as Boston-based hardcore band Great American Ghost have released their latest EP – 'Torture World'. The group, described by Kerrang! as "an exercise in old-school extremity" and named one of the "50 Greatest American Hardcore Bands Right Now", are certainly living up to the hype. Teaming up with producer Will Putney (A Day To Remember, Knocked Loose, The Amity Affliction), this EP is a sonic masterpiece. So naturally I cranked up my speakers and dove right in. Great American Ghost direct old-school hardcore wrath at hypocrisy, apathy, and self-loathing, delivered in a dark cloud of relentlessly bludgeoning riffs.
The EP opens with the explosive track 'Kingmaker' which draws inspiration from the industrial genre and could easily be one of the heaviest tunes of 2022. With earth shattering riffs, brutal breakdowns, and passion fueled vocals I could tell Great American Ghost was here to solidify their place in the hardcore scene. The title track, 'Torture World', is a masterful blend of atmospheric melodies seamlessly integrated with an onslaught of percussion and primal screams.
'Womb' kicks things up another notch with its lightning-fast pace and relentless breakdown that's bound to have circle pits opening up all around the world! Did I mention the badass guitar solo that adds a whole new dimension? Closing out the EP is 'Death Forgives No One', which hits you with a wall of crunchy riffs and the self-loathing lyrics of "It all comes crashing down/ We fall together/ I tried to find my humanity/ But I should've known better".
'Torture World' is by far the most invigorating hardcore EP I've heard in a VERY long time. If Great American Ghost hasn't been on your radar now is the time to get in on the action! 'Torture World' EP is available NOW on all major platforms so go pick up a physical or digital copy at the links below.
One for fans of Knocked Loose, Cursed Earth, Extortionist et al.
'Torture World' is out now. You can get your copy HERE.
www.facebook.com/GreatAmericanGhost
All content © Über Rock. Not to be reproduced in part or in whole without the express written permission of Über Rock.