By Jolee Flatman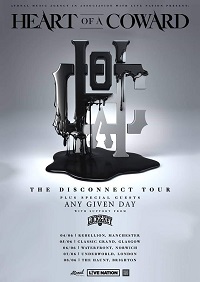 Before heading to the gig on the night, I was aware that it was nearly a sell-out show. This is quite unusual for concerts of this genre (metalcore/heavy metal) being held at this particular venue. Within the last few years, the metal scene appeared to be slowly dying out in Norwich. Some of the smaller venues that catered for upcoming bands have closed, as well as the main venues struggling to book as many acts.  With this in mind, my predictions at first were not very hopeful. Especially, when standing outside the venue, around 20 minutes before the doors were supposed to open, not many people were queuing.
When the doors did finally open, people were guided upstairs. Waterfront, as a venue, has two separate rooms, a larger one downstairs which has a wider stage and more complex lighting systems, and a smaller room upstairs. People appeared to be disappointed that it was taking place in the upper room. Although, one benefit of this was the gig became more intimate. Due to the stage having literally no empty space between itself, and the barrier. Again, it seemed pretty strange, not many people were inside at this time, even when the first band, Lock & Key, were scheduled to be on in around 15 minutes. Surprisingly, they took to the stage on time. This is always a relief, as well as a good indicator, that everything for the night is running smoothly, and as planned.
Lock & Key, are a five piece, UK based band producing metalcore/hardcore music. All members of the band took to the stage, without much fuss, or set introduction. The fan participation was considerably low, with many people standing towards the back of the venue, or still at the bar. This was noticed by the band, where they then encouraged everyone to take a few steps forward. Their efforts seemed ignored, and a large empty space remained behind myself. Nevertheless, this didn't deter the guys from providing an energetic, relentless performance. Halfway through their set, or roundabout there, the adrenaline began to creep up on fans. A small pit broke out within the empty space, with such few people getting involved, it was in small bursts. 'Hostile', was packed with intense energy, and nasty vocals from Rich Lardner. Overall, these guys truly kicked off the night, providing an outstanding performance.
Before attending, I was unaware of who Any Given Day were. When they were announced as a support, I checked a few of their songs, but they weren't really to my taste. However, much of the time, seeing a band perform live, can change your perspective on them completely. Unfortunately, this was not the case for me. There is no doubt that they are talented, but the consistent switch between fully clean vocals, and gnarly lows, just didn't work for me. Looking around, it could be assumed that some other groups shared the mutual feeling. It was difficult to tell how to interact, as one moment you are headbanging to a relentless breakdown, and before you know it there is a clean singing chorus. Although, it was noticeable that some of the people did attend for Any Given Day, and not the headliner Heart Of A Coward. This was reinforced by the crowd being much more active, compared to the previous band. The guys put on an explosive set nevertheless, projecting aggression and heaps of energy. One thing to note, is that the lighting was pretty poor. There wasn't much difference between songs, but this could be largely to blame on the venue. Songs such as 'Endurance' and 'Levels' were played.
As the time loomed closer to headliner, Heart Of A Coward's set, the venue began to fill up. Even with such a small, enclosed space on the stage, a banner depicting their logo and name was pinned up. It was noticed that not many amendments to the set up were made, which confirmed to the crowd that again, things were running on time. Unrelated music, such as from the Trap genre, was playing while the crowd were waiting, which I always find quite humorous. It sets a vibe which is completely the opposite, compared to the carnage of the night.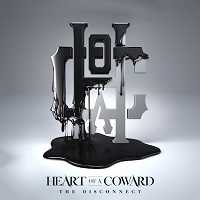 The lights became dimmed, with mainly the stage being lit, and the floor space very dark. This provoked a response from the crowd, as everyone thought it was a sign that HOAC were about to come on stage. However, it was slightly confusing, as the general music was still being played. This continued for around five minutes or so, everyone got back to their conversations, and ignored the stage. Finally, the music was turned off, and an eerie, atmospheric music built. The stage gradually became smoky, and then Christopher Mansbridge (drums) walked on stage. Cheering erupted from the crowd, while the other band members followed. Kicking off the set with 'Drown In Ruin', it electrified the room. Kaan Tasan (vocals), projecting pure hatred. Many fans recognised the song, as it is a pre-released track, from their newest record 'The Disconnect'. Following on from this, Ritual and Shade were played. It was surprising to me, that the crowd was not chaotic. It appeared to be a slow start, with a small push pit breaking out. Again, usually there are fans cramming towards the barrier, to get closer to the band, but this was also absent.
The set as a whole was incredible. Each member putting on a show for the crowd. There was not one moment that I could fault with the entire set. It could be argued that HOAC, are well known for their track 'Hollow', and I think I would be right to assume, that everyone wanted to hear this on the night. Around three quarters into their set, it wasn't present. However, the band left the stage, and it was obvious that the show was not ended. It was an encore, and the band returned, asking the crowd if they wanted two more songs. This turned into three, these being the awaited 'Hollow', as well as 'Deadweight' and 'Around a Girl'. Around this time, the crowd were encouraged to give everything they had, as it was their last chance for the night. This provoked an explosive response, with the pit becoming more vicious and increasing in size. 'Hollow' was heavy as fuck, a performance that was truly memorable. Tasan did the song it's true justice, despite this coming from an album where Jamie Graham was the vocalist.
Once the set was finished, Tasan announced that at the merchandise table, their newest album, 'The Disconnect', was available there and then on pre-release (it officially came out yesterday). Fans went mental at this, and it is safe to say, many albums were purchased on the night. The album can also be streamed on all platforms currently.
Overall, I came out of the gig sweaty, aching from the pit, slightly unable to hear and absolutely astounded at the performance. Now, that is how you know a show has been successful.
The tour concludes at The Haunt in Brighton tonight (Saturday 8 June). HOAC then play Download on Sunday 16 June and the RADAR festival in Guildford on Friday 2 August.
All content © Über Rock. Not to be reproduced in part or in whole without the express written permission of Über Rock.