By DJ Monk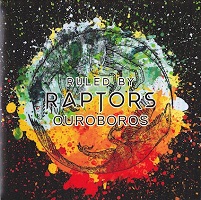 The problem with debut offerings from new bands is that they can often reflect a group of artists struggling to find their own identity, experimenting with different sounds in the struggle to set themselves apart and present something new, fresh and, above all, appealing. It is exactly this struggle that is reflected on this, the debut EP from new Northumberland quartet Ruled By Raptors.
Now, I say they're a new band, but they definitely have pedigree, having formed out of the ashes of post-hardcore outfit Digits: when that band split in 2015, they had the bones of a third EP already in the gestation phase and it is these which, four years later, have formed the foundation for this debut release from RBR. However, having chosen the EP's name (the ouroboros is an ancient symbol of a snake or serpent eating its own tail, variously signifying infinity and the cycle of birth and death) to reflect the band coming full circle, it is not quite a rebirth but a combination of rejuvenation and throwback.
The dichotomy presented by the four tracks here is obvious from the very beginning, as 'Braggart' kicks in with a swagger which matches its title, a heavy crunching riff matched by a punchy, thick riff which hints at a pure metal assault, before first the vocals and then the secondary riff take it down a more alt-hardcore route. There's just too much of a soundclash going on to make the track totally accessible, and perhaps it would have been better saved until later in the tracklist, when we've had more time to figure out what is going.
Fortunately, things do get better – although not immediately… 'Promises' is brash and gnarly, with another initially promising riff and an impressive rhythmic beatdown: unfortunately, once again it fails to grab and just has too much going on, with its tonal and mood changes contrasting like sandpaper over polished oak. 'Dux', on the other hand, is superb: rich and layered, it is the most consistent track on offer, with an incisive main riff, a heavy-ass rhythm and a seriously earworm of a melody which coils around you like the serpent from which the EP takes its name. The harmony is perfectly worked, and the mid-song breakdown emphasizes how heavy this band have the potential to go.
By contrast, closer 'Time' seems an incongruous choice for a single, at least initially. However, by blending elements of pop punk into the band's still present underlying post-hardcore attitude, it quickly evolves into a catchy and infectious tune which, all things being equal, should garner them plenty of invaluable airplay on certain online radio and cable TV stations.
For all its faults, 'Ouroboros' is a defiant statement of intent, but also demonstrates that its creators do have an awful lot more work to do. It does possess a raw energy and a sense of defiant intent, and shows plenty of potential: let's hope that these four lads have the determination to follow their dream, as I have a feeling there are better things to come.
www.facebook.com/RuledByRaptors/
All content © Über Rock. Not to be reproduced in part or in whole without the express written permission of Über Rock.