By Monk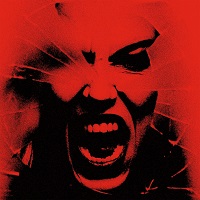 "I'M BACK FROM THE DEAD", screamed by Lzzy Hale over an incandescent guitar chord, has to be one of the most defiantly declarative opening statements made on any album, especially in this new PC (that's Post-Covid) era. Not that the woman delivering it has been anywhere near being "dead" during most of the down time we've all been forced to endure over the past two years of covidications. In fact, given the number of collaborations in which she's been involved, it could be argued that the only person in the Überverse with whom she hasn't duetted is, in fact, herself…
Right from the off, it is not hard to tell that Hale is angry, no fucking ANGRY, on this album. And deservedly so. She has plenty to scream about. And when she screams, boy does she fucking scream. You'll have to have a spine of jelly not have shivers coursing down when she hits the final crescendo of 'The Steeple', as Lzzy declares "This is my kingdom/This is my cathedral/This is my castle/And these are my people" in tribute to the fans: it's a declaration which I can raising millions of lighters, and an equal number of roofs, when played live.
"I'm my own redemption…" defiantly continues the theme of that opening clarion call, as Hale spits, snarls, claws, bites and punches her way through this stunning album, delivering 'Bombshell' after bombshell, more than ably supported, as ever, by series of fiery instrumental performances which are just as angry, and hungry, as the singer herself.
"I'm worth it/I come first/I'm worth it" is a defiant middle finger to the mass media moguls: "I'm not your servant/I'm not your slave" is a strident message of empowerment, but also an equally powerful message to other female artists who sacrifice their dignity and humanity in order to get those most sought after few seconds of "fame" on so-called "reality" TV shows… And if you need any further convincing, Hale declares that "if you want crazy, I'll give you PSYCHO": a terrifying prospect delivered with equally terrifying effect.
Despite its lyrical depth, 'Back From The Dead' is probably Halestorm's most accessible album to date. It certainly is their most "pop" cred, crammed to the gills with what would have once been MTV-guaranteed heavy rotation 'bangers, that just grab you by the nuts and refuse to let go. At the same time, Hale once again proves she's not afraid to turn everything on its head, as she proves with the sentimental closer 'Raise Your Horns', surprisingly not a fist-pumping power metal slice of kitsch but a beautifully eloquent piece of vocal and piano. They could have gone totally OTT to bring us a grand finale, full of grandiose pomposity, but instead it's stripped back to its pure essence, with Hale's impassioned vocals not only sending more shivers down that jellied spine but bringing tears to your eyes and making you, if somewhat involuntarily, do what its title invokes \m/
As anyone who saw their 'An Evening With…' tour this past March (which unfortunately we missed due one of those dreaded positive diagnoses) will undoubtedly attest, Halestorm are most definitely back. No, make that BACK. Even though it seems they've never been away…
'Back From The Dead' is released today (Friday 6 May). You can get your copy HERE.
Halestorm return to the ÜK and Ireland in December, as support to Alter Bridge on their 'Pawns And Kings' tour, playing the Motorpoint Arena in Nottingham on Monday 5, SSE Hydro Arena in Glasgow on Tuesday 6, Dublin's 3 Arena on Thursday 8, Manchester's AO Arena on Friday 9, the Resorts World Arena in Birmingham on Sunday 11 and finally the O2 Arena in London on Monday 12. Tickets are on sale now from all usual outlets.
www.facebook.com/halestormrocks
All content © Über Rock. Not to be reproduced in part or in whole without the express written permission of Über Rock.