By Bona Pjarren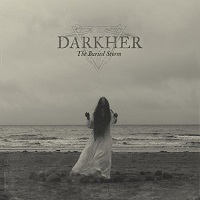 With her sophomore full-length, 'The Buried Storm', Jayn Maiven the guitarist, composer, lyricist and producer has clearly succeeded to even improve the beloved alchemic musical formula that was firmly established on Darkher's debut album, 'Realms', in 2016. Her mostly eerie and at times even outright sinister sonic storytelling comes refined on every level and with sharpened contrasts that reflect the ongoing learning-process of their creator.
Darkher was conceived as the sole brainchild and solo project of northern English singer and guitarist Jayn Maiven in 2012. The dark and melancholic yet also massively heavy sound on the self-titled debut EP, 'Darkher' (2013), combined with the distinct vocals of the shy pre-Raphaelite beauty caused an audible buzz – particularly in the doom scene and brought Darkher a quick record deal, which led to the following EP, 'The Kingdom Field' (2014), appearing via Prophecy Productions. Other press outlets compared Darkher's music with a wide range of highly individual acts such as Chelsea Wolfe, Esben and the Witch, Solstafir, Loreena McKennitt and Portishead.
'Sirens Nocturne' introduces the album with cellos, violins and Jayn's hauntingly ethereal vocals. It gradually builds in intensity as the track progresses. It is all very dark, Gothic, stripped back and strangely moving. The follow up track is 'Lowly Weep' and the cellos are at the forefront again. Jayn's voice really adds a pathos to the proceedings. The simple drum patterns in the background, courtesy of Christopher Smith, help to drive the song forwards as it again builds,wanes, then builds again to a climax. The heavily detuned guitar grinds out more darkness in the latter end of the work.
'Unbound' is the third track of the album and is relatively short, comprising acoustic picked guitar over atmospheric samples and Jayn's beautiful voice. I can see why she has been likened to Loreena McKennitt by critics, though Jayn's voice has a distinctive quality of its own.
'Where The Devil Waits' is a fantastic piece of predominantly acoustic and vocal track topped off with haunting cello. It is wonderfully folky in its approach and acts as a nice balance to the album so far. Next up is 'Love's Sudden Death' and it is very ghostly in its introduction before launching into wonderfully de-tuned guitars that march forward in a doleful evocative way. Jayn's fantastic vocals just add to the prevailing melancholy of the song.
'The Seas' follows and it is gentle and sombre but compelling in its simplicity. It fits perfectly alongside the other tracks that I have listened to so far. It is wonderfully evocative of a darkening beach at dusk with Jayn's siren's call floating over the waves. 'Immortals' is an epic song with a gentle acoustic intro. I think one of the things I am most impressed with is Jayn's quality and range of vocals and the way she uses her voice to enhance and embellish each track. Immortals feels like being taken on a marvellous enchanted musical journey. The strings help to build the experience while maintaining the darkness that is an ever present feature of this work.
Although not credited I am certain that 'Fear Not, My King' begins with piano. It is a nice touch and brings another level of shade to this spooky surreal piece. The chordal structuring on 'Fear Not, My King' is inspired and makes for a superb end to the album.
I think it really says something when you listen to an album and are disappointed when you reach the end, in that the end came far too soon and I could have happily listened to more. It literally only seemed five minutes ago that I started listening to it. This was an eye opening introduction to Darkher and it has left me wanting more. I think I have definitely become a fan. 'The Buried Storm' is a fantastic and imaginative piece of writing, wonderfully played and a fitting stage for Jayn Maiven's hauntingly beautiful vocals. This is an utterly captivating album and I urge you to give it a listen, you won't be disappointed.
'The Buried Storm' is out now. You can get your copy HERE.
All content © Über Rock. Not to be reproduced in part or in whole without the express written permission of Über Rock.