By Jim Rowland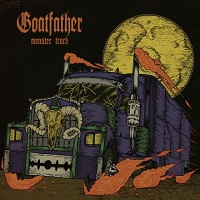 Five years after their acclaimed debut album, 'Hipster Fister', French heavy stoner rockers Goatfather are back in the driving seat with second album 'Monster Truck', and one thing's for sure – this truck is packed with a full load of huge riffs…
Comprising eight tracks, mostly over the five-minute mark, 'Monster Truck' is an endless procession of high-voltage, heavy and powerful stoner rock riffing bolstered by thumping drums, growling, shouty vocals and rumbling bass. From the swinging groove on tracks like 'Convoy' and 'Punish The Punisher' to the more metallic but still grooving edge of 'Monster Truck' and 'Don't Give Up', the album is a pummelling experience from start to finish.
Like a lot of stuff in this genre, some of the songs here aren't the strongest in terms of a song but are a great vehicle for a big riffing stoner groove, which is a lot of the attraction of stoner rock in the first place.
This isn't the case, however, with the excellent title track, which really is the complete package – great song, great riffs, and a real highlight. Another highlight is the wild, dirty rock'n'roll vibe of 'In Your Face', which lyrically sums up Goatfather's whole attitude to their music.
Available on vinyl, CD and download, with a great cover to boot, and sitting in the heavier direction of the stoner rock spectrum, 'Monster Truck' is a worthy listen for any stoner fan.
'Monster Truck' is released this Friday (17 September). You can get your copy HERE.
www.facebook.com/goatfatherstoner
All content © Über Rock. Not to be reproduced in part or in whole without the express written permission of Über Rock.