By Rich Hobson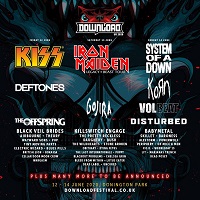 Well, it's fair to say that the first announcement didn't exactly set the world on fire. Return spots for all three headliners is seldom going to pique interest from the rock and metal world (though we'll gladly take RATM, AC/DC and Metallica for 2021 – ahem), but Download at least put some solid foundations forward with the addition of Gojira, Korn and Deftones as exceptionally solid back-up. Now Download 2020 is really starting to take shape with the latest announcement dropping a whopping 37 bands onto the line-up for good or ill.
Okay, so Babymetal have popped up every other year like that mate who sleeps on your settee and nicks the best cans from the fridge – and all your other mates just love them for it – but there's no denying their status as a phenomenon in the metal world is absolutely cemented. Their appearance at Glastonbury this year put their showcase out to the mainstream and they never fail to pull out a massive spectacle. Plus, we caught them last time around and it turns out they're pretty brilliant live.
Killswitch Engage are one of the most reliable bands in metal and with a new album fresh into the world, it's not surprising to see them pop up on this line-up. Not that we're complaining of course – like we said, reliable and that goes for "bands who can make the whole crowd roar along at deafening volumes." In fact, there's a fair bit in the way of reliable on this line-up, albeit not in a way you'd expect. Yes, we're not exactly enthralled that some bands are returning seemingly every (other, if we're lucky) year, but at least this year some of the Sunday afternoon rock actually has some proper go to it. Take the likes of Blues Pills, Wayward Sons and The Last Internationale, all three taking the heavy blues vibes of '70s rock and giving it a swagger that helps elevate them above the thousands of imitators out there.
For those bemoaning the lack of heavier offerings at the festival (weirdos – we have Gojira for fuck's sake), there's a heaping of underground brilliance to marvel at in the form of both legendary acts (Electric Wizard, Obituary) and emergent talent like Lotus Eater and Über-favourites Dead Label or just stone cold warriors like Dying Fetus. The usual radio rock bores have slipped the net again, but at least we get a slightly better breed with Bush popping up nicely on the bill, alongside "oh wow, they're back?!" act Lit.
Chuck in other crowd pleasers like Baroness, Volbeat and The Wildhearts and you can see this festival shaping up nicely, if a little too timid to add newcomer talent or big surprises to the roster as yet. That hasn't stopped Puppy making a very welcome return (main stage, please lads), nor Power Wolf coming back over following a very successful Bloodstock appearance this year. There're some solid nostalgia bookings in amongst the additions too – P.O.D. and Wednesday 13 both sure to make '00s greebs very happy (especially if they've had a few).
So, we've definitely sidestepped the dross there (and there really is some out there), but then – that's a big part of why you come to this website, we suppose! Mixed bag though it may be, Download 2020 has some great additions and some acts that are sure to please, meaning we can continue the good fight of finding the acts actually worth a damn out there.
Download 2020 takes place at Donington Park from 12 – 14 June.
All content © Über Rock. Not to be reproduced in part or in whole without the express written permission of Über Rock.