By Jolee Flatman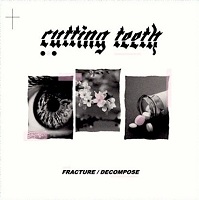 It is common for up-and-coming bands to increase recognition of themselves through performing as support acts at concerts – or word of mouth, which usually takes place on social media platforms. Cutting Teeth are a great example of this, the Yorkshire quartet are stomping a name for themselves, with already having performed alongside well-established bands, such as Bleed From Within and Lotus Eater. These guys are rapidly gaining a reputation for their frantic, and passionate live shows, characteristics which are prominent in their latest EP – 'Fracture/Decompose'. The style of this record reminds me very much of Counterparts and Cancer Bats, taking metalcore to newfound heights.
Overlooking the album as a whole, it has a good, clear structure, which helps to lock every track together. It is fair to say, this is an EP which injects pure chaos, and a hardcore twist, into the metalcore genre.  First track 'Blistered' fades gradually into a distorted eerie guitar, before fierce vocals pierce the haunting atmosphere. Contraitey, the last track 'A Reason To Give', provides a slightly more calm, reserved feel, which helps to signify the ending of the EP. Adam Jones and Nath Euington, create an overwhelming sense of doom, with the passionate, gut wrenching vocals overlaid.
Personally, my top pick from the album has to be the fourth track, 'Muscle Memory'. Beginning with a distorted dialysis machine beeping sound, trouble slowly builds up, before letting leash. Projecting an explosive hardcore vibe, and aggresive tones. This would be the one song to look out for in upcoming concert setlists, without a doubt it would pack energy and make the crowd go insane! Very close to the ending, it simmers down into a shallow, slow beat, with strong rhythm, before cutting and deserting into the following track.
After listening to the EP a few times, Cutting Teeth will be on my radar, and playlist for the future.  Now, do not overlook these guys.
'Fracture/Decompose' is released on Friday (22 November). You can get your copy HERE.
Cutting Teeth play Temple Of Boom in Leeds on Saturday (23 November) and then head out on tour with Black Tongue:
Thursday 28 November – Cheltenham, The Frog And Fiddle
Friday 29 November – London, Boston Music Room
Saturday 30 November – Bournemouth, Anvil
Sunday 1 December – Plymouth, The Junction
Monday 2 December – Swansea, Sin City
Tuesday 3 December – Stafford, Redrum
Wednesday 4 December – Liverpool, Zanzibar
Thursday 5 December – Sheffield, Corporation
www.facebook.com/cuttingteethuk
All content © Über Rock. Not to be reproduced in part or in whole without the express written permission of Über Rock.