By Tim Bolitho-Jones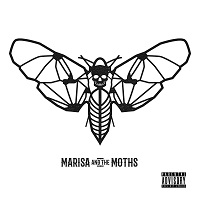 The debut album by Marisa And The Moths is like digging up a time capsule from the early Nineties. Opening with a laidback bass riff and some effortlessly cool vocals, it's a major throwback to the days when Nirvana ruled the airwaves and homeless Seattle drug addicts became major stars. It's an album that'll make you want to throw on a flannel shirt, take a trip to the Space Needle and discuss the latest Richard Linklater movie – and it's come from the world's epicentre of grunge… Reading, Berkshire.
Regardless of their geographical origins though, Marisa and her Mothly crew do a pretty good job recalling one of alternative rock's most heavily documented eras. This self-titled record is confident and well-executed and has a number of decent songs on the track list, so it's not just hero worship for the sake of it. If you don't mind music that completely ignores everything post-1995 and think 'Singles' is the best movie ever, this'll be right up your street.
Marisa herself is front woman Marisa Rodriguez, an axe-slinging focal point who isn't afraid of drawing on her painful life experiences for lyrical inspiration. She's got a charismatic voice and while she's obviously going to be the centre of attention, the rest of the band are no slouches either. There's some quality musicianship going on here, not least of all from guitarists Sophie Lloyd and Chris Merton, who keep the riffs flying and sneak a few intricate solos into the mix as well.
Good playing is nothing though if the songs don't stack up and mercifully, they have more hits than misses. 'Human' is a raucous anthem with a hook laden-chorus that's practically begging to be a single, while 'HDYGSW' is an energetic early highlight. Best of the bunch though is probably 'Choke,' a real earworm of a track that could have been a lost Audioslave song.
Elsewhere, 'Skin' is a potential air-guitar favourite thanks to Lloyd and Merton's duelling finish, while 'Slave' is a slower, anguished number. This one and the following 'Baby Goodnight' are vulnerable slices of alt-rock and both add a welcome dose of variety to proceedings. Marisa And The Moths know how to write a brass knuckle-duster of a song, but they can balance the light and shade well.
Not everything is a success but for the most part, this is perfectly respectable and engaging debut. Marisa And The Moths are unlikely to set the world afire this early in their careers, but there's a lot of promise here. "They've got the potential" is the most back-handed compliment journalists can give but these guys have written a pretty good first record and providing they hang around long enough to keep developing, they'll be a force to be reckoned with.
'Marisa And The Moths' is out now. You can get your copy HERE.
www.facebook.com/marisaandthemoths
All content © Über Rock. Not to be reproduced in part or in whole without the express written permission of Über Rock.