By Monk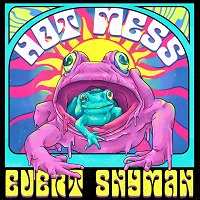 It is perhaps a common preconception, or even misconception, that when you come across someone's solo album that you might well expect something completely divorced from the reality which you have enjoyed from them to date – i.e. a stripped back, acoustic album or a sound which bears no relevance to that of their "main" project as the artist concerned seeks to explore other creative avenues. The music business is littered with exemplars of both sides of this coin – just as it is with ones whereby said solo sidebar possesses an easy familiarity which is almost instantly identifiable and doesn't take you too far from your expected comfort zone…
Such is the case with this, the second solo offering rom the insanely talented South African songsmith/producer Evert Snyman, whose musical path I first crossed, somewhat belatedly, in the latter quarter of the plague-devastated year that was 2020, thanks to his band Ruff Majik and their magical (sic) third album, the hugely unique and unquantifiable 'The Devil's Cattle', a release which firmly planted itself in my own top ten list. It has to be said that Snyman is one of South Africa's most respected, and prolific, independent song writing and performing artists, with more projects on the go than an entire series of 'Grand Designs' could cram in – and it is this depth, and the diversity of the multiple musical miens to which he applies himself, that is clearly evident in this immensely impressive new opus.
Not being familiar with Snyman's other projects – alt-rockers Pollinator, synthwavers Swandy and doomsters Mad God among multiple others – comparisons with Ruff Majik are the only references which realistically come to mind, and they are immediately obvious with opener 'The End Of Time', which shares the same psychedelic indie pop/doom vibe that permeates 'TDC', lurching out of the starting block with a Bolan-meets-Cocker swagger that is confident, declarative and strident. The album's changes in mood and tone are quickly introduced with the up-tempo stoner vibe of 'Debilitate Me', which would sit extremely comfortably alongside anything produced by Messrs Bjork, Homme, Oliveri and their ilk.
The album is characterized by its transition across multiple musical miens, such as the garage-grunge vibe of 'Dumb And Dead', the Bowie-ish shoegaze indie pop laconicism of 'Cleaner Than God',the gothic noir nu-wave sublimity of the title track and the ironic jazz-punk infusion of 'Maybe Never', but, that is all an integral element of the album's attraction and charm, delivering as it does such unexpected twists and turns in a way which integrates with easy fluidity.
Like RM, Snyman's solo work is extremely difficult to categorize, rewarding in and of itself by virtue of its sheer eclecticism. 'Hot Mess' is a challenging, exciting and provocative album in every regard, in that it both challenges and provokes the listener to think outside the box while simultaneously exciting and embedding itself deep into your aural cortexes, and your memory banks – not by being possessed of catchy, throwaway Cowell-esque pop hooks but purely and simply because of all the qualities I have outlined above. An essential listen, and purchase, for every open-minded music fan.
'Hot Mess' is out now. You can get your copy HERE.
www.facebook.com/evertsnymanband
All content © Über Rock. Not to be reproduced in part or in whole without the express written permission of Über Rock.