By Monk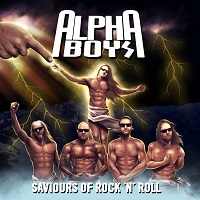 For every person that inaccurately, repeatedly and self-servingly claims that "rock 'n' roll is dead" (and not that we're not looking at any particular multi-millionaire "rock star", are we?), there are myriads of others asserting otherwise, and indeed equally louding claiming to be the genre's saviours. The latest to do so are Swedish deathpunk quartet, who make no bones about their declaration on the title of this, their debut album. But do they live up to their own hype(rbolae)? Well, there's only one way to find out, isn't there?
Describing the album as a collection of "ten deathpunk/rock n roll hits with deep lyrics about loneliness, hate and alcohol", Alpha Boys draw very much on the generic stamp, and stomp) of generic predecessors such as Scandi neighbours Turbonegro, as well as the deep well of the likes of Motörhead (snatch) and the class of '77. And they don't mess about in the process, hitting right between the eyes with the in-your-gob snarl and snap of 'To War', the first of several paeans about their (and our) mutual love of alcohol and its redeeming power to unite the world between one flag – and that is the one which heralds the latest glorious rock 'n' roll invasion force to plant its muddied DMs firmly and squarely in the heart of both our aural cortexes and our darkened souls.
Where the Alpha Boys really score is in their cheeky and irreverent lyrics, such as on the inanely brilliant lead single, 'Han(d) Solo' (oh, come on now, how many of don't regard Star Wars geeks as a bunch of w*nkers?), or the challenge to "find your dick" on the OTT genius of 'A Fucking King' (although, personally speaking, I would have amalgamated the last two works into one… it would have been more schoolboyishly funny!)
As mentioned above, the Boys have a very (un)healthy pre-occupation with both booze and sex, as exemplified on the likes of 'Georgina W Butch' (about a husband pre-occupied with getting into his uninterested wife's knickers), 'Drunk On A Sunday' (only Sunday lads, come on, are you professional drinkers or what?) and the manic, middle finger-raising 'To Smart To Be Sober', which help the album rattle along at a pace at which most bands would have found themselves more knackered than Usain Bolt trying to run a marathon after just a couple of tracks.
Alpha Boys alone may not be the 'Saviours Of Rock 'n' Roll', but they most definitely, and defiantly, have made their mark on the genre, and the Überverse as a whole, with this hugely impressive debut. It is not overstatement on the band's part when they describe all of the ten songs as "hits", as each and every one hits the mark with every note and every syllable. This is an album that once again defines the terms all-killer-no-filler pedal-to-the-metal rock 'n'f'n' roll. Jump aboard the Alpha Boys bandwagon: I promise you one helluva ride \m/.
'Saviours Of Rock 'n' Roll' is out now. You can get your copy, and other Alpha Boys goodies, HERE.
All content © Über Rock. Not to be reproduced in part or in whole without the express written permission of Über Rock.