By Dawn Boyd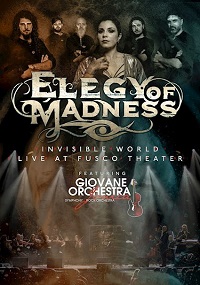 Elegy of Madness have been around since 2006 and this pairing with a symphony rock orchestra is only a complement to their music. If you search them on Spotify, their playlist comrades include Nightwish, the band I see as most synonymous with symphonic metal. On vocalist Anja Irullo's social media photos include a photo of herself with Christina Scabbia so there is a good understanding of what they are up against having come from Italy as well.
Determined to not become jaded to their sound, listening to the live album was going to be that impressive introduction that I hoped for. Having listened to live albums before there is always one that gets me which is definitely, 'S&M' by Metallica. Elegy of Madness have stiff competition to impress and it definitely proved successful.
They chose to work with an established rock orchestra so they had a good head start to work with someone who had a background in what would blend; how to work alongside the band themselves to bring out the greatest sound.
It's always something extra for an already well working band to bring in a new element and, the odd one or two instruments can sometimes add effect but a live show, backed with an orchestra and a smorgasbord of new sounds is more atmosphere and that new effect on a current sound.
I first watched the pre-release of 'Apnoea' and was taken by the hypnotic melody. The lyrics are masterful in painting a picture of what 'Apnoea' is and could make you feel a sleep paralysis fear that comes with that sensation. It's a strong pre-release and showcases the showmanship of the band when it could have easily been overwhelmed by the orchestra and what they do which is a strong indication of their talent. Unlike with Lacuna Coil, this group sometimes verges on an operatic sound that is familiar to this particular genre and has a great partnership with the two bands which merges into a very atmospheric mix.
I listened through each song individually and have now added these to my own playlist. I may have built a rod for my own back as I am almost nervous to listen the original versions. I have said it before and I will say it again, I LOVE symphonic metal, its my go-to because of the sheer skill and finesse to create such a sound never fails to get in my blood.
The introduction track, a quick stamp that slowly fuses into the first vocal track of 'Egodemon'; works well to heighten the senses and build to a crescendo that is song one starting. 'Egodemon' had some other sounds that I really quite enjoyed. There were some Bollywood and oriental sounds that created a middle eastern vibe. It was different to the rest of the songs that otherwise made this one standout as a firm favourite on the release as a whole.
I really enjoyed the attention to detail for the whole collection. Despite the strings of the violins and the bass-y percussion sounds, the metal sounds weren't altogether missed and in 'es' I did enjoy the guitar riffs that had a faint hint of Rage against the Machine that did change things up a little and really bring home the metal background. Otherwise it was smooth orchestral sailing that could quite easily make this an easy listen if you were inclined to listen to  metal music to relax.
My only negative that came for me was that at times the microphone may have been a bit low so at certain points in the recording it was quite hard to hear the singing. Given that the album was displaying a lot of different atmospheres so it didn't make it a huge drop on the songs altogether but just something that I noticed because I was trying to be picky. If I listen to the original album I will get the songs; here is where I wanted the experience of the music.
For introductions of a song itself, my award to favourite goes to 'Nobody Cares'. Very heavy and intense which really contradicted some choral sounds that almost gave it a religious choral essence. For ambience, this song started off perfectly in my opinion.
As a whole, the album worked as an impressive case of showing off their work and the band working in sync with the orchestra really does make this an extra special lockdown treat when you can't get out of the house.This album doesn't blow me away but it also doesn't disappoint. The two teams of musicians work well to create the mood of the music and it really is an enjoyable night at the theatre with a little something extra.