By Jim Rowland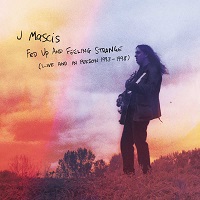 An icon of 90's American alternative rock through his work with Dinosaur Jr, J Mascis is known for gigs at intense volume, and no stranger to a screeching and meandering guitar solo. But there is another side to the man that this new 3CD box set illustrates – J Mascis the stripped down solo acoustic performer.
'Fed Up & Feeling Strange' collects together three solo acoustic shows, two previously released and one previously unreleased, recorded between 1993 and 1998, to explore this other side of J Mascis. Disc one is 'Live At CBGB's', recorded in December 1993 and originally released back in 2006, which documents Mascis' very first acoustic solo show, where he is understandable still finding his feet and displaying a few nerves, but delivering the material itself in fine style. The experience and confidence he picked up along the way after that with numerous solo shows in between Dinosaur Jr projects shines through on 'Martin & Me' (named from his Martin acoustic guitar of choice), which comprises disc two here, was recorded at various shows on a late 1995 solo tour, and originally released in 1996, although this version adds a previously unreleased version of 'Grab It' as a bonus. By this time, he is in full flow. Of particular interest to fans will be disc three, 'Live In Stockholm 1998' which is a completely previously unreleased recording from start to finish, where Mascis has clearly honed his craft.
The material is mostly drawn from the Dinosaur Jr catalogue, both well-known and more obscure, and whilst songs like 'Keeblin', 'Thumb', 'Get Me' and 'Repulsion' feature in all three sets, there's still enough variety between the sets to hold your interest. Amongst the Dinosaur Jr material, there is also a smattering of some pretty interesting cover versions, with Lynyrd Skynyrd's 'Every Mother's Son' featuring in all three shows, and Greg Sage's 'On the Run', Carly Simon's 'Anticipation' and even The Smiths' 'The Boy With The Thorn In His Side' cropping up along the way.
Since the days of these recordings, J Mascis has pumped up his 'acoustic' performances with volume and effects pedals, but these shows are completely stripped back, with just an acoustic plugged straight into the PA leaving the songs bare, and perhaps giving you a bit more of a chance to get lost in the man's voice and lyrics. He still reminds me of Neil Young, whether acoustic or plugged-in and electric. This is a fine collection that really gives you the chance to get up close and personal with J Mascis.
'Fed Up And Feeling Strange – Live And In Person (1993- 1998)' is released this Friday (29 January). You can get your copy HERE.
www.facebook.com/JMascisOfficial
All content © Über Rock. Not to be reproduced in part or in whole without the express written permission of Über Rock.