Written by Tim Bolitho-Jones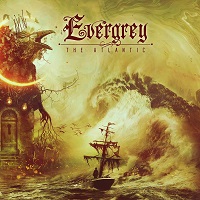 Like all good progressive albums, 'The Atlantic' is big, pompous and melodramatic. It's an hour of pristine Gothic histrionics that demands you set up a professional lighting rig at home; listening to it without lasers shooting everywhere and smoke machines billowing out thick clouds would be selling this record short. It's also well-crafted, engrossing and one of Evergrey's finest works in ages. It's strong enough to attract Emerson, Lake And Palmer loving prog-aficionados at the same time as their Wacken-attending offspring and is a nice return to form for this seasoned act.
Evergrey in 2019 you see are not the same band they were during their peak. They've gone through line-up changes and a few decent but unspectacular albums, all while their masterpiece (2001's 'In Search Of Truth') got further and further away. Of the six musicians who recorded that landmark, only singer Tom Englund and guitarist Henrik Danhage remain so if you haven't been paying close attention, it's easy to approach 'The Atlantic' with some degree of caution.
Any worries about the quality though are blown right out of the water early on. Opening duo 'A Silent Arc' and 'Weightless' are exceptional, blessed with haunting melodies, soaring choruses and riffs as dense as HMS Victory's anchor. They're both massive songs, each going through several changes of mood and shifting as often as the tides. Third track 'All I Have' is a bit more straightforward; a classical power-ballad with a truly spine-tingling performance by Englund. He's long been one of the most underrated frontmen in the genre and here, you can almost feel the anguish resonating from every note.
The galloping riffs of 'A Secret Atlantis' pick the tempo back up before settling into an atmospheric groove with a darkly anthemic vocal hook. It's a muscular mid-album highlight before the light breather of 'The Tidal,' a brief instrumental that leads nicely into 'End Of Silence.' This one sees Evergrey taking a free-wheeling and ambitious template but condensing it down into a five-minute song. Keyboards sit comfortably astride Djenty guitar riffs while Englund turns in another top-notch round of lung-bursting.
'Currents' and 'Departure' keep things moving along but 'The Atlantic' hits an absolute high with 'The Beacon.' Once the spoken word intro is out the way, it turns into a perfect sing-along that makes a perfect soundtrack for standing atop a cliff with your arms flung wide and wearing a frilly shirt with too many buttons undone. You'll feel as epic as that old Guinness advert where the surfers see horses riding the waves, even as your own spit flies back into your face. Here's to you Ahab.
Following that enormous piece of spectacle, 'This Ocean' is a minor let down. It's a decent enough finale but could have done with being earlier in the track list, as the preceding song would have made for a monumental ending. There's still enough blood-pumping vigour in it to reward repeat plays and Evergrey certainly don't let themselves down, it just doesn't have the same "wow" factor 'The Beacon' did. All of which makes for an engrossing hour of power metal at its most melancholic, theatrical best. It's not Evergrey's best but it is arguably their finest work in a decade. When they get around to touring this, the light shows alone will make the ticket prices worth it.
https://www.facebook.com/Evergrey/
All content © Über Rock. Not to be reproduced in part or in whole without the express written permission of Über Rock.