By Jim Rowland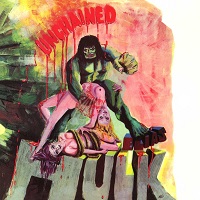 The late '60s and early '70s was a rich period for the then new and burgeoning heavy rock and progressive rock scene. For those interested in those bands, there's an absolute treasure trove of obscure nuggets to discover if you're prepared to dig deep enough and go beyond the likes of Black Sabbath, Deep Purple, Uriah Heep and the others that made it big. There's certainly plenty of interest these days in the bands that didn't quite make it during that period, perhaps best illustrated by the recent 'I'm A Freak, Baby' box sets which very successfully did some of that deep digging for you. One such obscure nugget from that period was Bournemouth's Elias Hulk, whose 1970 album 'Unchained' has stood the test of time and earns a remastered re-release this month on Cherry Red.
Elias Hulk formed in 1969 and featured Peter Thorpe (lead vocals), Neil Tatum (lead guitar), Granville Frazer (rhythm guitar), James Haines (bass) and Bernard James (drums). Adopting a hard-edged progressive rock approach, akin to acts of the era such as High Tide and May Blitz, the band began performing on the ÜK underground live circuit and came to the attention of producer Miki Dallon who signed the band to his small independent Youngblood label in the Autumn of 1970. Issued at the end of November the same year, 'Unchained' was greeted with acclaim by the press, but failed to sell in any significant quantities. The passage of time led to the album's reputation gaining momentum and it became highly sought after by collectors, with original copies attaining vast sums due to their rarity, as is the case with quite a few bands of the same era, with London's Leaf Hound being a prime example. However rare and obscure these albums may be, it's fair to say that they will only stand the test of time and gain notoriety if they're any good.
Referred to as 'progressive rock', that term had a different meaning in those days, and bears little resemblance to what we know as 'prog' these days, instead referring to the fact that it was rock music that progressed into new territories and did something different. Elias Hulk's sound is certainly heavy for the period, mixing heavy blues with psychedelia. The likes of 'We Can Fly', 'Yesterday's Trip' and 'Nightmare' clearly display the influence of Cream, hugely influential at the time, with booming bass and thundering drums underpinning wailing heavy blues guitar. 'We Can Fly' even incorporates a drum solo, which was pretty brave for the opening track of an album. 'Been Around Too Long' heads in a more jazzy, mellower and progressive direction, 'Free' hints at the sound of Peter Green's Fleetwood Mac, whilst 'Delhi Blues' and 'Anthology Of Dreams' echo the sound of some of the American West Coast psychedelic vibes of the time.
It's easy to see why 'Unchained' didn't achieve the kind of success that the likes of Sabbath, Purple and Heep enjoyed at the time, and whilst influenced by Cream, it falls way short of their standards. It is however a very enjoyable and interesting listen indeed, and a fascinating trip into the more obscure underground world of heavy rock of the early '70s.
'Unchained' is released tomorrow (Friday 28 January). You can get your copy HERE.
www.facebook.com/CherryRedRecords
All content © Über Rock. Not to be reproduced in part or in whole without the express written permission of Über Rock.