By Rich Hobson
With just four weeks to go until the masses descend on Donington once again, Download Festival has released its final line-up additions to finalise the poster for the 2019 event. But, not only have new bands been added – the festival has also re-jigged its line-up and moved bands around, presenting a very different look than the one we had previously.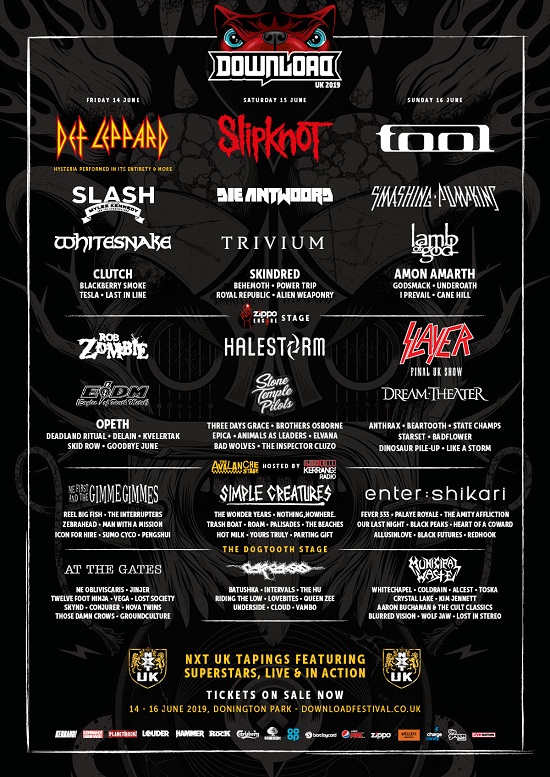 Six new bands lead the final announcement, representing a wide swath of diversity that makes up the rock, metal and punk scenes. You've got symphonic metal warriors Epica, blues rock troubadours The Inspector Cluzo, New Jersey post-hardcore from Palisades, progressive psychedelia drenched melodies from Blurred Vision, alt-rock singalongs with The Beaches and the incongruous stylings of Nirvana by way of Elvis courtesy of Elvana.
The biggest dedicated rock festival in the UK, Download brings together some of the biggest acts in rock, punk and metal, with 2019 proving to be no exception with headliners Def Leppard, Slipknot and Tool representing an incredible mixing of rock and metal over different generations. This year features a number of Download debuts and promises some high-profile spots to some of the hottest names in the industry right now.
Not content with just cornering the music market however, Download Festival has also released details of its dedicated NXT Stage for superstar wrestling throughout the weekend, including the likes of Adam Cole, Pete Dunne, Toni Storm and Shayna Baszle. The festival also features its own dedicated comedy tent in the village (featuring comedians like Jim Breuer, Ed Gamble and Allyson June Smith) and a number of live entertainment acts across the weekend such as ballet troupe El Duomi and fire and fakir master Aima Indigo.
Download Festival will also be debuting a number of mental (and physical) health improvement schemes at the 2019 event, acknowledging both the wider issues facing the mental health sector and the particularly prevalent loss of high-profile members of the rock and metal community to suicide.
Ever the gatekeeper for the UK rock and metal community, Download Festival 2019 looks set to uphold the legendary standards it has set in the past, helping to foster the scene to ever greater heights as it hits its 16th year.
Tickets are on sale now.