By Rich Hobson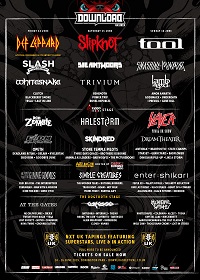 Download Festival 2019 boasts one of the most stacked line-ups of recent years, each day seemingly pitched to appeal to a particular kind of fan.
Want stadium-sized good times rock? Def Leppard, Whitesnake, Slash and Rob Zombie have you covered on Friday.
Want to check out some of the hottest and biggest bands in rock and metal canon? Look no further than Saturday, with Behemoth, Power Trip, Slipknot and Halestorm all taking up prominent positions.
Or maybe you're all in for the inimitable Donington performance of the decade; there's plenty to love with Tool's first performance in the UK in 13 years, Smashing Pumpkins' first UK festival spot with the (semi) classic line-up and Slayer's last ever UK show.
You might think the festival doesn't hold enough to justify a weekend away, but those single days are a goddamn steal for the right kind of fan. Rejoice then, that day tickets for Download 2019 will go on-sale on Friday 27 March, letting you find the perfect day to suit your own tastes.
View the full line-up, and then make up your mind what day you want to wallow in the mud, HERE.