By Jase Walker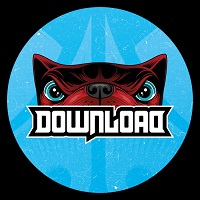 Sadly, I wasn't able to grab any live acts on Thursday, so it's a bit of a blank page… but anyway, it's time for the main event to begin!
After getting into the press area and doing a brief interview with As Everything Unfolds, I got myself straight off to the Dogtooth stage for my first act this weekend, Heriot. This is the third time I've seen them this year and most definitely will not be the last!
The size of the crowd they've got here is huge and not only that, a massive pit opened behind me immediately! Heriot's crushing, world-endingly heavy riffs fill the tent with raw, aggressive energy. It's clear that they're buzzing off being able to open up Download on the Friday and I don't think there could have been a better choice for it. Debbie's vocals sound stunning too, not only that though, those guitar solo bits are fantastic as well. Heriot should be massively proud of what they've been doing in 2022, and I hope this trajectory continues.
After a brief break to nip back to the press area for an interview with Hannah from Rockfit, I'm back over to the Avalanche stage for As Everything Unfolds. What started as an empty tent while I was walking up is now a sea of people behind me waiting in anticipation. It's obvious right from the start that this band getting upgraded to the Avalanche stage was 100 per cent the right call and making Download my first time to see them live was also the best idea. The six-piece are smashing it here and it sounds incredible, getting to hear the bass and keys so clearly is special on stages like this as they can so easily get lost in the mix.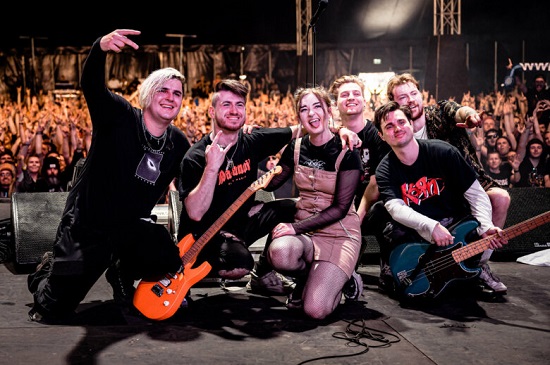 They're hammering through the set due to only having 30 minutes, but they're making the most of it playing the biggest bangers off their album. This band has essentially everything I'm into right now, catchy hooks, a mix of heavy and poppy bits and vocals that jump between cleans and uncleans. Putting out a memoriam for their friend Ryan Chisholm, who passed away a short while ago (was heavily felt in the scene), you could hear the pain in Charlie's voice. I really can't get over how much stronger these songs are when I'm hearing them live. I already loved the album a ton, but this is going to just make my adoration for it grow even more. I don't think I could have wished for a better first live show for As Everything Unfolds, this weekend is off to an incredible start.
After another breather and a pint, it's time for Lacuna Coil, who I've not seen in years! I'm really hoping for a couple of 'Karmacode' or 'Comalies' numbers. Christina's vocals are unmistakable but my god that guitar tone is significantly heavier than I remember it being! Their stage look this time is very black metal-esque; the videos either side of the stage are also in monochrome so this seems to be a deliberate aesthetic. I've had to move a bit closer to get a better view, in the process the sounds improved massively as it's quite a windy day so it's getting blown around a bit further out.
Lacuna Coil sound crushing, that low end from both the bass and guitar is pounding my chest. The Italians are making sure that Download knows they've missed playing here and likewise, I've missed these so much in the meantime. Getting my wish of an older number, they deliver it with 'Heaven's A Lie', easily one of my favourites from 'Comalies'. Towards the end, another favourite in the form of 'Our Truth', so I'm getting my 'Karmacode' fix too, happy with that!
Time to march over to the Avalanche stage to catch Normandie! I arrived just as they began their set, thankfully I remembered that handy shortcut from the Opus Stage. The sound in here is thundering, the bass and drums reverberating through my chest but thankfully not at the expense of the rest of the band. It's also nice to get a bit of shade because the sun is brutal at the moment.
Normandie have drawn in a solid crowd and judging by the waving arms and bobbing heads down the front, there's some big fans here. The Swedish rockers look like they're having a great time on stage and it's translating well considering the crowd's response to every song they're playing. I've only listened to them a bit in passing before so this is my first experience seeing them live too, going to be getting a bit more familiar with their stuff when I get back home.
Sticking around the same stage, it's time for the infamous Sleep Token. Admittedly it's only been a few weeks since I saw them last at Alexandra Palace supporting Architects, but I love them so why not? Disappointingly the sound seems a bit off as I can't really hear the guitars much. I do wonder what sort of setlist they'll go with for Download, generally bands seem to focus a lot more on their heavy hitters but Sleep Token tend to be anything but ordinary. The moment that first drum bit starts for 'Jaws' the crowd immediately recognizes it and starts cheering.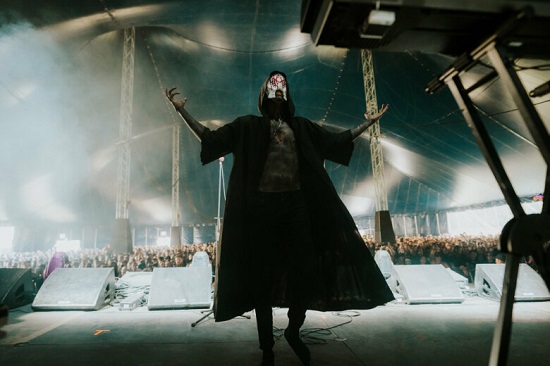 It's amazing seeing the Avalanche stage absolutely packed out for Sleep Token, and not only that, everyone knows the words. Each song is met with a chorus straight back from the audience – this right here is what live music is about. And seeing such an oddball band like Sleep Token win over so many people is incredible. 'Higher' also goes down an absolute storm, front to back is a sea of waving hands in time with the beat. Seeing Sleep Token constantly up their game every time I see them is brilliant, what a class act. I also still do not want to know who Vessel is… stop trying!
I got into the tent for The Ghost Inside a bit late but not by much, it's time to see one of the OG and best American metalcore bands! I've even spied the guys from A Day To Remember on the side of the stage. It's been barely ten minutes and I've just seen some poor sod carried to the medic at the side of the stage with a pretty busted up face and leg – that pit is terrifying! Front to back of the Avalanche stage is going berserk!
The Ghost Inside are tearing this place to bits, massive chunky riffs, huge choruses and dripping with aggression. Those grooves are fantastic too, it's one of my favourite bits about Metalcore as a genre, those gurn-worthy grooves. Just witnessing this, I can see why everyone I hear talking about The Ghost Inside talks about them in a level of reverence. The songs ooze style and passion, each with a solid melodic hook and a pounding rhythm to go along with it, all fronted by an amazing singer that has the audience wrapped around his little finger. They chat briefly about their headline tour and the bus crash that happened, and it turns out the drummer lost his leg but he's still here… that's incredible!
Coming to see these as my finale for Friday was absolutely the right call here. Most of my reason to come here was legitimately just hearsay from friends and I've come away with a compulsion to go and rinse their entire back catalogue for the next few weeks. They've got a hell of a reputation and for very good reason.