Written by The Dark Queen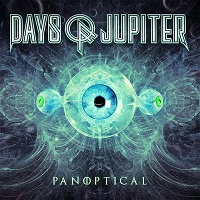 Swedish melodic metal quintet Days Of Jupiter were formed in 2010 and have recently released their fourth album, 'Panoptical', through Metalville.
This is a band I must admit has slipped under my radar until the CD was slotted into my stereo and I was pleasantly surprised. This album is a mixture of softer melodies with hard hitting twin guitars of Johnny Grenwald and Marcus Lindman blending seamlessly together. Jan Hilli's vocals are raspy and seductive, his three octave range is impressive.
Opener 'Swallow' is a roller coaster of a track telling us to be ourselves but swallow pride. 'We All Die Young' is as powerful lyrically as it is musically while we are told that to be reborn, we die young.  Janne Karlsson's bass and Magnus Larsson's drums blast strongly on this and the next few raucous tracks. The overall upbeat presence on this album makes it the perfect soundtrack to getting ready for a great night out as it stimulates all your senses and lifts the spirit within.
'Black Hole' quietens down the fast pace and reveals the seductiveness of Hilli's voice, combined with smooth acoustic guitar; it tells the story, in my opinion, of depression. It is hauntingly beautiful and when the electric guitar slides in it adds another dimension. The double kicks during 'Sons Of War' are hypnotic and blood raising as it tells of boy heading to war. The guitar solo slows this track down only to march again. 'The End Will Begin Again', 'Edge Of Everything', 'Shallow Side', 'Nine Tons Of Lies' and 'Thieves And Legends' all follow the same structure both musically and in pace.
The underlying story running lyrically through out this album is one of despair, blackness and isolation combined with faith, hope and inspiration. It plays on every emotion a person can have but also leaves you feeling good and happy. It is what great metal is all about.  There is of course a strong Nordic flow to this album (understandable considering where the band originate from).
The mixture of fast paced rifts and drums along with the softer melodic parts showcases just how talented these musicians truly are. I personally truly enjoyed this album and I shall be checking out their back catalogue.
'Panoptical' is out now. You can get your copy HERE.
https://www.facebook.com/DaysOfJupiterOfficial/
All content © Über Rock.  Not to be reproduced in part or in whole without the express written permission of Über Rock.