Written by Rich Hobson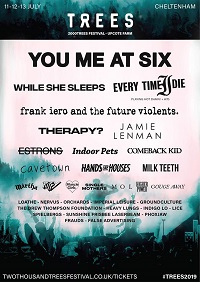 Fresh from winning the accolade as the UK's Best Medium Sized Festival, 2000 Trees have greeted the New Year with a 33-band announcement for the 2019 event. Headed by pop-punk quintet Youmeatsix – quite possibly the biggest booking in Trees' history – certainly if you go by the completely sold-out UK tour the band completed November/December – the line-up also features the likes of While She Sleeps, Every Time I Die (playing 'Hot Damn!' In full), Therapy? and Jamie Lenman.
Also featured is the new band by ex-My Chemical Romance guitarist, Frank Iero and the Future Violents and a veritable who's who of UK alt rock including Estrons, Puppy, Muncie Girls, Indoor Pets and Milk Teeth. There's plenty of heaviness to be excited about as well, in the form of Canadian shitkickers Comeback Kid, blackgaze warriors Mol, homegrown hardcore bruisers Higher Power and post-hardcore warriors Gouge Away.
Top it all off with the likes of Nervus, Loathe, Heavy Lungs, Lice, Spielbergs and Sunshine Frisbee Laserbeam and you've got the makings of one hell of a celebration of alternative culture this July, with the festival returning to Upcote Farm in Cheltenham over the weekend of 11 – 13 July.
Tickets are on sale now and available in a variety of packages, allowing fans to purchase 2-day, 3-day or single day tickets, as well as an instalment scheme which allows fans to spread the cost across monthly – or weekly – installments. What's more, any fans purchasing today (9th Jan) will be entered into the Golden Tickets Competition.
With a solid first announcement and many more bands to come (at both this and sister festival ArcTanGent), 2000 Trees is kicking off the New Year with a preview of the exciting summer to come!