Words by DJ Monk. Photos by The Dark Queen.
It had been more than a year since Conjuring Fate had last played in Belfast, and what better time to make their return than the release of their second album, the ÜR-approved 'Curse Of The Fallen'? To mark the occasion, they had assembled a supporting cast made up of two acts more than capable of headlining a venue of this size in their own right (as they both have done in the past) and one of the fastest rising stars of the Northern Ireland metal firmament.
With such a stacked support line-up, the difficult task of setting the mood falls to symphonic metallers Ravenlight, themselves no strangers to these pages. Their sweeping style relies heavily on backing tapes to bring the full musical effect, and this in turn makes it difficult for the band to show any leeway in their performance, with no room for deviation, improvisation – or even mistakes. Thankfully, the quartet make none of the latter – despite guitarist John Connor losing the use of his in-ear monitors halfway through the set (you may put that audition for Volbeat on hold, son) – and they deliver a tight and precise showcase, aided by a much better sound mix for Rebecca than the last time I saw them, on this same stage.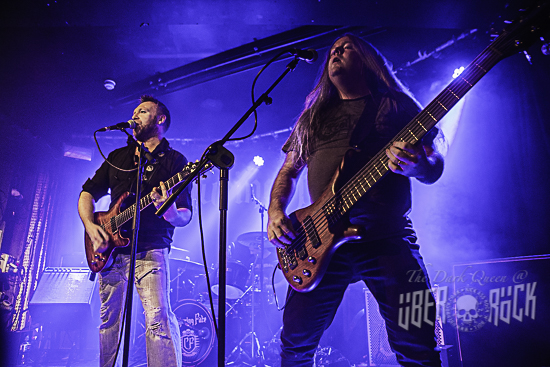 The mood is completely changed with perhaps the most experienced band on the bill, A Little Bitter and their punk-infused alt-rock vibe, with its heavy emphasis on dance-ability. Their big hooks, massive melodies and catchy-as-fuck choruses are underpinned with big, booming basslines and tightrope taut percussion as they deliver a tight set which demonstrates how hard this band have spent grafting their craft over the past decade and a half. And the site of Seamie Donnelly whirling, twirling and headbanging across every inch of the stage like a demented 13-year old on speed is almost worth the admission price alone!
Another change in style as So Long Until The Séance bring their particular band of horrorpunk schlock to proceedings. They hit hard and fast with opener 'Dead Boys' and their proclamation that they "do it best". While they retain some of their established fan favourite pops, the set largely revolves around new material from their forthcoming debut album, which they are currently writing and recording: these exhibit an increasingly darker side to the band's sound than we have heard before, although the poppy catchiness of the choruses, in particular, is still omnipresent. The SLUTS, as they are affectionately known in this corner of the Überverse, specialize in making their onstage appearances seem slightly shambolic, but underneath there is a demonstrable tightness which improves the more this current line-up beds into itself.
As mentioned at the top of this piece, this was Conjuring Fate's first Belfast show in more than a year, and they obviously were keen to make sure their return went off with a bang, as it doesn't take long to notice the pyro blasters planked on each side of the drum kit: maybe they were planning to 'Burn The Witch' literally as well as lyrically!
Despite suffering from bruised ribs and a chest infection, frontman Tommy is looking hungry, with the rest of the band lean and mean. Judging from the amount of CF shirts on display, and with the latest design flying off the merch stall, it's a rabidly faithful crowd, as further evinced by the fact that many of them are singing the words right back to Tommy, despite the album having only been released a few days previously. They are rewarded with a tight as fuck performance, with Phil and Karl bouncing off and around each, both musically and physically, the former a model of command and control, the latter wreathed in his usual mischievous grins, while Steve and Niall hold down the bottom end with an easy tenacity.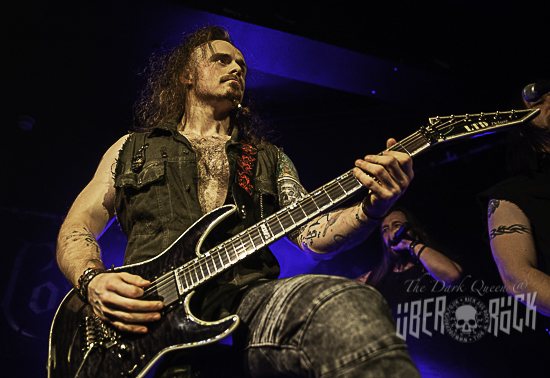 They play the album through in order, breathing vital life into the songs which we have taken to our hearts in such a short period of time, with the likes of the aforementioned 'Burn The Witch', 'Daughter Of The Everglades', 'Night Of The Knives' and 'Original Sin' sounding particularly fresh and vibrant in the live environment. They finish the set with a triptych of older songs (well, they do have an hour to fill), with first Tommy and then the two guitarists taking to the pit and beyond during 'Mirror Mirror', before they bust through the venue's curfew with a rambunctious and rowdy trip to the 'House On Haunted Hill'.
If a certain Danish lager did album launch shows, they'd struggle to match this one. Job well and truly done, and album well and truly launched in fine style. Well done guys.
'Curse Of The Fallen' is out now. You can get your copy HERE.
Conjuring Fate play the Vault Arts Centre in Newton Stewart on Saturday 7 December.
Conjuring Fate, Ravenlight and SLUTS all play the Über Rock-promoted Helfast 2020 over the weekend of 22-23 May.
PHOTO CREDIT: All photos © The Dark Queen/Über Rock. You can view our full gallery of photographs HERE.
All content © Über Rock. Not to be reproduced in part or in whole without the express written permission of Über Rock.