By David O'Neill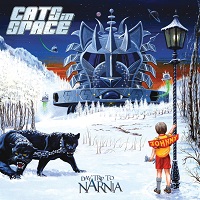 Cats In Space are an enigma.  Only emerging four years ago, I first saw them supporting Deep Purple in 2017 and was blown away by the performance on the night.  Huge vocals and showmanship are included in any Cats performance.  This was followed up with a second performance in Caerphilly Castle, a unique arena for an amazing show supporting Thunder.  The live album was very good but 'Day Trip To Narnia' takes it to a whole new level.  After a single listen I was transported into the imagination of some very talented musicians who extol the virtues of '70s music and TV (when there were only three TV channels and it went off at midnight) with huge productions with wit and nuances that many others in the "PC" era are likely not to explore.  
With a list of classic influences such as 10cc, Queen, ELO Supertramp, and John Miles its no wonder I enjoy the music.  The band pedigree reads like a who's who of rock music so there's no shortage of talent on show.  When you get this much talent in one band with this much chemistry its just a matter of time before it causes a nuclear explosion, and this is the latest album, 'Day Trip To Narnia'.
The opening track is (I hope) a lyrical tongue in cheek derision of pop stardom, "I sing the songs and take the cash, throw your fan mail in the trash".
'She Talks Too Much' is a 90 second virtual misogynistic tirade about someone who's partner looks too good to tell her to shut up but lacks the moral wherewithal to do anything about it. 'Hologram Man' opens with a nice guitar riff that has a 'Don't Fear The Reaper' sound to it that runs throughout.  Again, the lyrics are a bit acerbic if taken literally but I get the impression the Cats don't like doing that too much.  Despite the lyrical "intent" it is a very catchy tune with good hooks.
'Tragic Alter Ego' opens with a piano solo that any classical pianist would be proud to play before the typical Cats keyboard sound launches into another tongue in cheek lyrical whipping of old musicians who are trying to recover their past glories.  'Chasing Diamonds' is a big ballad composed of multiple cliches that builds to a huge chorus underpinned with a very nice acoustic guitar track.
The last track before the concept section of 'Johnny Rocket' is 'Unicorn' which again opens with a cymbal/hi hat riff that reminded me of the opening of 'Shaft' by Isaac Hayes before the huge voice of Paul Manzi carries the track through its multiple layers of harmonies, instrumentation and lyrics that as the rest of the album thus far appears to make little sense if you are looking for meaning.  I think this is the band's way of saying they're a bit like the Emperors New Clothes and the only people that can see it are themselves not the audience.
It all adds up to 27 minutes of very cleverly written and performed tongue in cheek mickey take of superstardom that could easily transpose to a stage musical, although. I'm not sure it would rival the runs of more established musical theatre given the "hidden meaning".
'The Story of Johnny Rocket' is a tale of a young lad who wants to be a spaceman.  The second track has a bit of Rick Wakeman's 'Journey to the Centre of the Earth' sound to it in parts with a simple lyric that the audience might just join in with.  The third track has a serious late '70s disco beat to it a bit like 'Flashdance' (and there's even a mention of leg warmers – remember those?  Oh god am I really old enough to remember that?). The next track has an element of 'Blakes 7' theme tune to it
Track 13, 'Yesterday's News', is a ballad which is probably my favourite track on the album that reflects the passage of time for the hero's (Johnny Rockets) partner that feels a bit like 'Raindrops Keep Falling On My Head'/'After The Love Has Gone'.
I have to say that if you take it at face value (sorry Phil Collins), don't look for the symbolism or meanings in the tracks/story, it's a journey through the '70s for those of us who were there!
Listen to the musical ability of the Cats and enjoy the 'Day Trip To Narnia'… I did.
'Day Trip To Narnia' is released on Friday (1 March). You can get your copy HERE.
Cats in Space are on tour in Spring 2019. Get to a show, I'm pretty sure you won't regret it:
Friday 8 March – Bristol, Thekla
Saturday 9 March – Birmingham, O2 Institute
Thursday 14 March – Manchester, Manchester Academy
Friday 15 March – Nottingham, The Rescue Rooms
Saturday 16 March – London, The Garage
Wednesday 27 March – Wimborne, Tivoli Theatre
Wednesday 24 April – Hexham, Queens Hall Arts Centre
Thursday 25 April – Milton Keynes, The Stables
Friday 26 April – Ebbw Vale, The EVI
Thursday 9 May – Glasgow, Òran Mór
Friday 10 May – Buckley, The Tivoli
Saturday 11 May – Sheffield, Corporation
Thursday 13 June – Dublin, The Button Factory
www.facebook.com/catsinspaceband/
All content © Über Rock. Not to be reproduced in part or in whole without the express written permission of Über Rock.