By The Dark Queen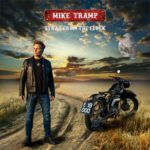 Self-confessed musicaholic Mike Tramp is to release his latest solo album 'Stray From The Flock' on Friday (1 March) through Mighty Music.
This album is a wee bit different, as he has a lot of his friends backing him but nevertheless is true Mike Tramp. All his songs still tell his stories as only he can and, to quote Mike himself, "the songs just poured of out me, there was no stopping them."
Opening track 'No End To War' starts very quietly, just a mandolin playing. It builds slowly into a melodic passionate anti-war criticism of the war mongers. 'Dead End Ride' brings the tempo up into a funky beat story about a failing relationship. Personally, I can't help singing along to this one (so is my puppy, lol) 'cause we all have some experience of this scenario. 'Homesick' tells the story of a person on the road and even they are doing what they love but they hit the wall and miss family and home.
'You Ain't Free No More' has a country rock feel to it with chunky riffs as it tells us to tear down the walls, kick them in the balls and break every rule. The next track 'No Closure' is hard a one for me personally (there are tears stream down my cheeks) as it tells the story of a 'father' letting down his child. It's a beautiful yet heart-breaking song full of pain and unresolved feelings with no way to resolve – but that is Tramp: he can always connect with his fans with one song or another, which is why his music always speaks volumes.
'One Last Mission' not only brings the beat back up but it is a fight back song as it tells someone that we only have to today and one last time to ride. 'Leave It Out' has a hip-swaying beat (one all girls will dance to) as it tells us about thinking back on a life lived and that heaven and hell are closed cause we don't know what life is all about. 'Messiah' is a questioning song about religion and is anything real. It is upbeat and soooo catchy it really does stick in your brain and you can't help singing la la la la llaa  (sorry, I couldn't help it) La la la la laaa…
'Best Days Of My Life' Mike tells us he's been around the world and as he thinks back in and bouncy beat that he still loves the fact that music and the turmol of life as a musician as given him the best days of his life. Closing track 'Die With A Smile On Your Face' becomes very gospel and regretful. It is a beautiful, sorrowful eulogy to a life lived as you want and do as you please…
A review is a personal point of view and mine is that this the best album Mike Tramp has produced. It is a beautifully constructed tour of life's experiences and feelings. It is opinionated as well as emotional, and I for one can't wait to see him perform these songs live.
'Stray From The Flock' is released on Friday (1 March). You can get your copy HERE.
Mike Tramp tours the Über Kingdom of Rock 'n' Roll in April. You can find full dates HERE.
www.facebook.com/MikeTrampOfficial/
All content © Über Rock. Not to be reproduced in part or in whole without the express written permission of Über Rock.