By Rich Hobson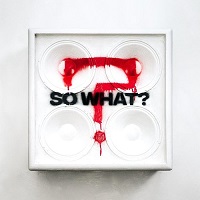 Ever the contenders, While She Sleeps have long been regarded as one of Britain's hottest up-and-coming metal acts. But it wasn't until 2017's 'You Are We' that the band's true title-stealing potential truly came to the fore, that record representing not just one of the best UK metal releases in recent years but quite possibly a contender for one of the best global metal releases this decade. What's more, the band achieved this by going independent, shucking off associations with their previous label and going on to land a top-10 position on the UK album charts. Following up landmark releases has long been an albatross around the necks of many an otherwise successful band, so all eyes are on Sleeps' fourth studio record 'SO WHAT?' to see if the band can continue to ever-greater glory.
Straight away, 'SO WHAT?' marks itself out as very different to its predecessor. Whereas 'You Are We' traded on a much more simplified – dare we say pop-minded – songwriting style, 'SO WHAT?' reintroduces the band's more experimental, technical prowess. This marks the record as something of a hybrid of their past two releases, merging the anthemic choruses of 'You Are We' and the out-and-out powerhouse energy of 'Brainwashed'. One of the more divisive elements in 'SO WHAT?''s toolkit is their more apparent incorporation of electronic tones into their songs; something which at times serves to enhance the melodies, but at others feels like a jangly distraction from an otherwise killer riff.
Appropriately, the album's first single 'ANTI-SOCIAL' kicks things off almost as a direct follow-up to where the band ended things before. Continuing the upward trajectory of the past, we get enormous vocal hooks married to dancing, thunderous guitars. The first true signal of change comes just after the three-minute mark, as the band incorporate a metal via hip-hop style which feels like the sonic offspring of something like Fever 333 more than anything the band have created in the past. Recognising the changing face of metal, While She Sleeps have seen fit to adapt to changing times, finding ways to bend their current style into something more representative of modern culture. Jarring as it is, it works to effectively establish the band as a vital force, representative of a genre which is moving further and further away from its heavy blues roots.
One thing that Sleeps do carry over from past bands is the sensation of arena-worthy anthems. 'I've Seen It All' and 'Inspire' are absolutely enormous; Sleeps at their most unbeatable. Unfortunately, the latter introduces one of the aforementioned electronic flourishes, somewhat diminishing an otherwise powerful song by introducing sound effects that feel more at home on the likes of the new Fall Out Boy or Amity Affliction records. Sleeps aren't the first band to fall afoul of contemporary production flourishes – just recently I had Tears For Fears' 'Mad World' on and, with the hindsight of the Gary Jules version, it becomes painfully obvious how bloated the track feels with new wave synth effects –nor will they be the last, but their experimentation with it on a track like 'Inspire' feels like it detracts from a song which would otherwise easily inhabit the upper echelons of the band's back catalogue.
Luckily, these deviations into vogue trends are fairly few and far between, the band's 'worst' transgression their use of a litany of different vocal effects on each track (fuzzed-up, echoing; it's all there). Some experimentation can definitely be forgiven though, especially when it shows that the band are still so dedicated to building their craft and evolving even after striking gold. Building on what worked before, the band introduce melodies and styles which could never have fully fit in with 'You Are We', the almost tropical guitar tones of 'Guilty Party' a stand-out oddity that somehow works incredibly well.
As with 'You Are We' before it, 'SO WHAT?' somewhat lives and dies on its ability to craft excellent sing-alongs. In isolation, each vocal melody feels perfectly pitched to hook straight into the heart and get the listener howling along at full volume. When married to the typical Sleeps sense of thunder and lightning instrumentation you get the full effect of what this band are capable of, a sense of growth which feels so large it feels like Wembley beckons. If the first half of the album is for exercising their experimental tendencies, the latter half is straight-up no-bullshit anthemic business. 'SET YOU FREE' is absolutely enormous, the song's gentler parts letting Loz Taylor's vocal melodies bear the brunt, while it's heaviest parts feel like the breakout parts of previous hit-single 'Silence Speaks', sheer ecstasy.
While She Sleeps pin their aspirations to their sleeves on 'SO WHAT?', crafting an album which both shamelessly flaunts the elements of their sound which brought them so much success in the past whilst also incorporating the language of modern culture into what they do. When subtly applied, these elements give an entire new dimension to the band's sound, pushing them into a space that could attract masses of new fans without getting rid of why fans loved them in the first place. At the same time, metal culture is nothing if not a fickle bitch, and such dalliances may very poison the waters enough to rankle the sensibilities of purists out there. That said, same purists don't think Parkway Drive can headline Bloodstock Festival, so clearly these people cannot be trusted.
The phenomena of the breakout album follow-up has felled so many bands in the past. 'SO WHAT? 'certainly doesn't feel like a step backwards for While She Sleeps, nor an ignorable middle-of-the-road release which will be forgotten in future. The album bristles with great tracks, and some of the hooks and riffs are among the very best that the band has ever produced. At the same time, the record does have a taste of self-indulgence to it, the trope of a successful artist screaming "MORE! MORE!" and over-saturating some of the songs in the process (think 'Walk Hard', when Dewey Cox insists on bringing in a theramin and full orchestra for 'his new sound').
If 'You Are We' was the band moving their narrative from 'Rocky' to 'Rocky II', 'SO WHAT?' sees the band go from 'First Blood' to 'Rambo III' (a mixed-metaphor, but one that sums up the excessiveness and joyful indulgence well). Don't get me wrong though – this is still a record which absolutely shakes the foundations of what British metal can achieve, and one that should see the band's ascent continue at meteoric pace – and deservedly so.
'SO WHAT?' is released on Friday (1 March).
While She Sleeps play Rock City in Nottingham tomorrow (Tuesday 26 February), SWG3 in Glasgow on Wednesday (27 February), the O2 Academy in Leeds on Thursday and a sold-out Roundhouse in London on Friday. They also play the 2000 Trees festival this summer.
www.facebook.com/whileshesleeps/
All content © Über Rock. Not to be reproduced in part or in whole without the express written permission of Über Rock.