By Jonny Bakes
Bloodstock. What can I say? It's an event that holds a very special place in my heart and is my most anticipated event of every year. However, this year was accompanied by that bastard shadow of Covid that has been looming over for the best part of two years now. This meant we had unfortunate last minute line-up changes to deal with and the crew had a whole host of other challenges to deal with but, nevertheless, the show must go on… and it most certainly did!
There were some subtle changes to the provisions of the arena that saw a welcome new addition from the Meatless Farm stall who had kept me full of vegan scran at the Download pilot back in July, so it was great to see them back! But overall, the arena was pretty much as it was every year which for me meant another chance to spend even more money on army surplus goods at the Military Mart stand, and an opportunity for more drunken purchases to fuel my vinyl addiction (as in records… get your mind out of the gutter!).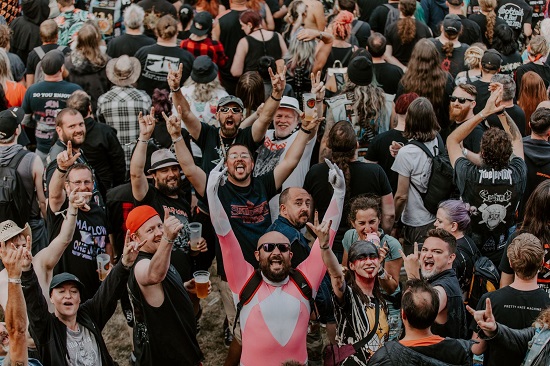 As I was there as a campsite supervisor, it meant that I was unable to take full advantage of the additional day of music that had been introduced for the 20th anniversary of the festival, but I did still manage to catch a cheeky break to check out my Wednesday favourites, Raised By Owls, pack out the SOPHIE Stage to a crowd who absolutely lapped up their grindcore silliness. And, of course, no Raised by Owls gig would be complete without superfan Jamie taking to the stage in his Mr Blobby costume to add that extra bit of spice to the set! Likewise, my Thursday viewing was pretty limited, but I did make sure to catch up-and-coming power metallers, Battle Born, on the New Blood Stage who certainly impressed me and really reinforced why I'd bought their EP a few weeks before!
By Friday though, I was back in the game full-time and getting a healthy breakfast of (vegan) white Russians to get me running. And for me, I think this was the day that made the whole festival for me! I made sure to check out one of APF Records recent signings, Sound of Origin who put on a great show on the New Blood Stage and also one of my stand-out surprises of the festival, Ale of Adam, who were incredible on the Jager Stage and deserve to make a reappearance on a bigger stage in coming years. But my attention was really focused on the triple header on the Main Stage that evening – The Wildhearts, Skindred and Devin Townsend.
Now I was already very familiar with the first two, having been a fan for many years and they both put on absolutely fantastic sets, but Devin, now he was something else. I don't think I've ever been so moved to tears, doubled over in laughter, and struck with awe all at the same time during a set before. Even if I did find myself uttering the phrase "what the fuck" on several occasions, like when a gorilla and elephant took to the stage, a whole bunch of giant farting ballsacks were launched into the crowd, and a bunch of skeletons started busting out dance moves on the stage. I'd listened to a fair few tracks from Devin's career, but it was this set that definitely sealed my fate as a DT fan!
After such an emotional night on Friday, that led into a very heavy night dancing away in the SOPHIE Stage, Saturday was a little bit quieter. Although I did manage to catch Winterfylleth before I decided I needed a bit of an energy injection, and I found just the thing with the mighty HanOwaR who laid waste to wimps and posers on the New Blood Stage, and much baby oil was consumed in the middle of the crowd. In fact, I'm sure the chants of "Eh, up, grease me up" could be heard from outside the tent! This lined me up nicely for some serious thrash from German legends Kreator who never fail to bring their 'Violent Revolution' to destroy the crowd. Inexplicably, after such a heavy experience, I then found myself dancing to '90s pop music in the silent disco… but variety is the spice of life, right?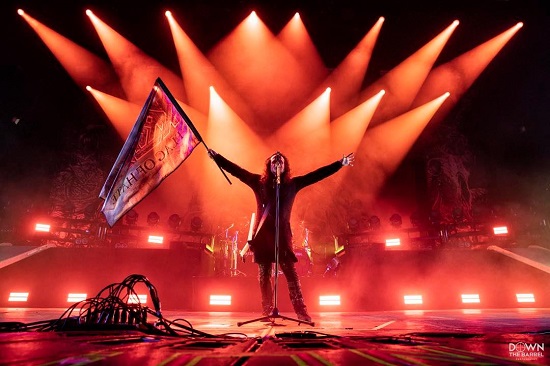 By Sunday I was starting to run out of steam (evidently, I'm out of practice) but I still managed to drag my way down to the New Blood Stage to catch Manchester lads Frozen in Shadows, who put in a stellar performance and showed that vocalist, Russ, can manage serious music as well as his arguably less serious stuff (Footprints in the Custard). Shortly afterwards was the moment that everyone was waiting for, but no one knew when it would happen, and that was for Brian Blessed to step out onto the Main Stage where he introduced metal stalwarts Saxon! The excitement continued with a killer two hour set from Judas Priest which was full of all the showmanship we've come to expect from the mighty Rob Halford. Then it was time to bring the festival to a close with the (in my mind) bizarre choice to have Evil Scarecrow headline the SOPHIE Stage. Things got pretty cramped in that little tent, but there was still plenty of robot dancing and crab walking to close out the festival with a bang.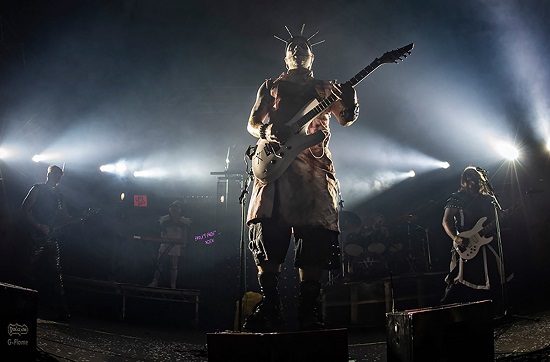 There was a bit of a weird air as we all left on Monday with many playing that new game of "am I hungover, or do I have Covid?" but one thing is for sure, like my friends have said, no matter what happens now that is the first time we've truly laughed and felt alive in the last two years and nothing can take that away.
Note: Yeah, so I did get Covid, and I feel like shite, but it was fucking worth it.
PHOTO CREDIT: Photographs courtesy of Bloodstock.
Bloodstock 2022 will take place over the weekend of 11-14 August. Headliners Lamb Of God and Mercyful Fate will be joined by Dimmu Borgir, Testament, Bury Tomorrow, Vio-lence, Philip H Anselmo & The Illegals, Sacred Reich, GWAR, Exodus, The Black Dahlia Murder, Static-X, Heathen, Bloodywood, Life Of Agony, The Night Flight Orchestra and Butcher Babies, with many more to be announced. Early bird tickets are on sale now.
All content © Über Rock. Not to be reproduced in part or in whole without the express written permission of Über Rock.