By Jonny Bakes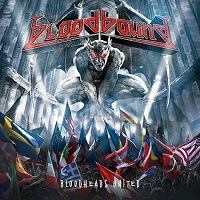 It's time for another dose of delightfully cheesy power metal to help combat the overwhelming sensations of cabin fever during this period of isolation and what better album to choose than one that features a track that celebrates the unity of the band's fanbase?
That's what we have with this very fan-oriented special mini-LP release from Swedish metallers, Bloodbound. Available as an exclusive 10" white vinyl, 'Bloodheads United' features the title track that is dedicated to the loyal legion of fans (called Bloodheads of course) and four new exclusive live recordings of classic Bloodbound tracks from the 2017 Bang Your Head Festival. The vinyl release of this little fan package is limited to a mere 500 copies, so it's definitely going to be somewhat of a collectors' item for die-hard Bloodbound fans from all corners of the world.
Title track 'Bloodheads United' is exactly what you expect from Bloodbound, it's upbeat and full of energy with a significant dosage of synth. Think of a mash-up between Freedom Call, Sabaton and Manowar and you'd be pretty close to the vibe of this track. It is great to see a band showing real acknowledgement to their loyal fans with a dedication track like this and I expect the Bloodheads will be completely stoked to feel this appreciation. For those who merely dabble with Bloodbound, you might not get the same effect though, but then you also aren't the target audience here!
The subsequent live tracks feature some pretty clear live recordings of big Bloodbound hits, including 'In The Name Of Metal' and 'Moria', both of which I caught when I saw them support Sabaton and Alestorm on their UK tour back in 2016. I must admit, the recordings on this mini-LP sound far more energetic than the performance I saw, but then that's most likely the difference between a festival performance and the opening act on a tour.
Unless you're a pretty serious Bloodbound fan, there's not going to be a huge amount in this release to excite you. With only one new studio recording, and four live tracks spanning a total of about five minutes, this is looking to be more of a fan collectors' item than it is a serious EP release. The vinyl would make a pretty great addition to any power metal fan's record collection though!
'Bloodheads United' is released next Friday (17 April). You can get your copy HERE.
www.facebook.com/bloodboundmetal
All content © Über Rock. Not to be reproduced in part or in whole without the express written permission of Über Rock.