By Jolee Flatman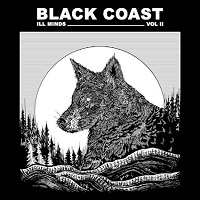 When I first checked out Black Coast on social media, it was noticeable that they were pretty underground and not too well known. With this in mind, streaming the EP for the very first time – I was truly amazed. Black Coast's new EP, 'Ill Minds Vol 2' is something you want to keep an eye out for when it drops on 8 March. The five-piece first formed back in 2015, producing metallic/melodic hardcore music. The new EP is a follow on from their previous EP – 'Ill Minds Vol 1', however there is a clear distinguish between the pair with the debut release being more of a matured sound. For fans of Stray From The Path, Counterparts and Wage War.
The first aspect to mention is Black Coast as a band strongly reflects an inspiration from Stray From The Path. Although, they have placed a spin on this sound, creating a darker, more aggressive tone. Throughout the EP, all vocals are gnarly growls and a raw shouting style, no clean singing is involved.
Opener 'Act II' erupts with a relentless riff and nasty vocals. Throughout the song, Charlie Hewitt spits out vocals which are full of fierce aggression. The chorus has been constructed to sound chant like, which adds diversity to the overall structure. Now and again a melodic riff foregrounds the music which again adds that extra complexity to the song.
Following on from this, second song – 'Solace' is an instrumental focused on guitars and bass, tied in with an atmospheric tone. It conveys a very calm, peaceful feeling, however there is an underlying haunting feel that provides an unnerving element. Pretty dark thought – but it reminded me of the type of music a drama programme may overlay on a scene of a character drowning in an ocean, while all their personal worries and stress just float away.
'Diablo' has to be my top pick from the EP. It's straight after the instrumental, therefore it gradually fades in, which fits very well as it doesn't disturb the calm atmosphere. This song perfectly demonstrates the true talent of Charlie Hewitt's vocal range. Towards the middle of the song, the background instruments combine to give off an off-beat structure with the vocals on top. This style is very conventional for the hardcore genre. From 3.45 onwards, a ominous riff kicks in, just before lethal vocals strike. This individual section would create chaos performed live, definitely a section that would provoke a mosh pit or even wall of death.
It is easy to tell that Black Coast will receive a flood of new fans with the release of this captivating EP.
'Ill Minds Vol 2' is released on 8 March.
https://www.facebook.com/blackcoastuk/
All content © Über Rock. Not to be reproduced in part or in whole without the express written permission of Über Rock.