By DJ Astrocreep
A three-band bill on a prog bill? Sounds like a recipe for two song sets and delays, especially on the first night of the tour for Haken, with Bent Knee and Vola riding in support of the British prog metal heroes. Another evening in Manchester – thankfully warmer than the last few I came across for – should lead to some pretty masterful musicianship. I even find time to catch up with Richard Henshall prior to the gig for a chat (see the end of this review) – and a thoroughly nice guy he is too! A whisky in the bar downstairs later, it's time for doors…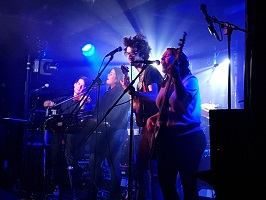 Fifteen minutes late due to sound check issues, Bent Knee take to the stage and I'm unsure what to make of them before they start. Two guitars, a violin, a bass, a synth/vocalist and a drummer. A female fronted Mr Bungle was not what I would have guessed at. While they obviously have to cut a song or two from their set due to the late running, people seem to take to them quickly and well and they actually do themselves a lot of justice in the shortened set. The layers are built quite well, while the vocals and backing are harmonic, while the energy is very good, especially given them fitting six members on to an already packed stage. Just a pity we don't get the full set of this eclectic, experimental group.
Vola take to the stage themselves a touch late, launching into their first track with a heavier feel than the rather extraordinary openers. Clean vocals mesh well with a heavier leaning in their sound, giving a rather uplifting feeling. It's well orchestrated and performed, especially bearing in mind that they're a trio using backing to further boost their levels. They go down well with the crowd, but they're not overly my kind of thing – though I can appreciate objectively that they're an accomplished act. I have definitely seen much worse acts, both in terms of ability and the way they appeal to the crowd, but bands that veer a lot towards Djent simply don't work for me – more a thing I overlook if I enjoy other elements of the band's works. I would recommend them as a live act for anyone interested in more Djent type tracks, though.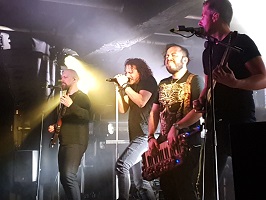 The roadies having done a sterling job, Haken take to the stage almost dot on time to a remix of the William Tell Overture, before blasting into their opening track. Their set features last year's release, 'Vector', quite heavily – half the tracks played, in fact – which is more than likely due to the manner in which Haken are playing tonight. Melodies, melodic cacophony and some pretty heavy riffs at times, interchanging as they wind through their set.
Not wanting to give away their set, as it's not listed anywhere at the time of writing, I can say that 'The Good Doctor' was 'Falling Back Down To Earth' at a couple of points, with a decent mix of older, well-loved material with their newer, edgier tracks on 'Vector'.
The capacity crowd are utterly up for it from the very start, trying to sing along, hands in the air and bouncing along at differing points, with superb energy being reflected right back at them by the band, with Richard, Ross et al showing excellent musicianship throughout and demonstrating just how they have manoeuvred themselves towards the front of the pack for the burgeoning prog metal pack.
It's just a pity that the normally helpful and welcoming security in the Academy utterly fail to help those of us in the accessibility area, with a young lad on crutches unable to see due to people having walked in, unchallenged and not been removed, despite myself and others asking the people clearly in front of security to let those with extra requirements have the space and ability to view the band, as they were stopping a few from doing so, to the point I leave my needed seat to the young boy and prop myself against a wall at the back for half the set, when this was at detriment to myself. A pity that some excellent music and a generally great night was ruined for me and a few others by the selfish nature of some who decided turning up late meant they could go where they want to see for themselves and fuck those in need.
The UK leg of Haken's 'Transatlantic Vector Studies' tour finishes in Bristol tonight (Sunday 17 February).
PHOTO CREDIT: Photos by the author.
All content © Über Rock. Not to be reproduced in part or in whole without the express written permission of Über Rock.