By John Bedard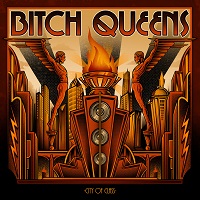 This is the kind of thing that I think of when I think punk rock. Sure, there are heavier punk albums out there. There are some albums that are more technically complex. There plenty that are more rebellious or shocking with their subject matter. All of these are things we often hear in punk and are all great but to me, it is not what punk is about. The most important thing with punk is that it is fun. 'City Of Class' is definitely fun.
All of the songs are very high energy and well-constructed. No one in the band overpowers any other instead all members play really well together. Having said all that, I would like to focus in on the guitar. The tone is wonderfully dialed in. It is a very clean and tight distortion with a nice rolled in mid-range. It really gives the tone a lot of color and depth. I really loved it. The drums were also dead-on. They really drive the songs along. No timing issues just a great rhythm. The bass was the one component that I felt could have been pulled a little further forward in the mix. It faded a little further into the background than I would have liked at times.
The vocals are on point as well. They are aggressive but clear. There is a perfect complement between the lead and backup vocals. The lyrics in some cases are pretty silly. Some songs I'm not really sure what they are even singing about but, even so, it is a lot of fun and that is what matters. Occasionally they bring in other things such as clips from old shows or, like they did in 'Especially Danny', they bring in a woman's voice that adds a nice variety to the overall album and does nicely to break it up.
The whole album is great, but I have been listening to 'Superboy' and 'Especially Danny' the whole time I have been writing this. Those two songs are my favourites. They are just a ton of fun. Especially with 'Superboy' mixing in audio clips from old Superman shows. It was a nice touch that really added to the overall experience. I would also expect Bitch Queens to be great live.
This is an album you should definitely check out. You won't regret it.
'City Of Class' is out now. You can get your copy HERE.
All content © Über Rock. Not to be reproduced in part or in whole without the express written permission of Über Rock.