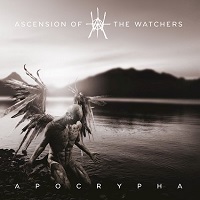 For someone whose early self-listening was heavily impacted by Fear Factory, I absolutely dropped the ball and had no clue that Ascension of the Watchers existed until this latest release, 'Apocrypha' came into our inbox. Fear Factory were the first bigger band I ever paid to go and see, even! After Burton C. Bell has recently decided to focus his energy into AotW, it is probably the best time for me to catch up with his work outside of Fear Factory – so, how would it sit with me?
The answer is that this is a superb piece of work. There is definitely a good level of introspection from Burton in the lyrical content with the music generally taking a more laid back approach, though mid-release track instrumental 'Stormcrow' is certainly on the louder side while other tracks have their moments, too. It's actually notable that Burton relies on the more melodic tone we heard in the chorus of tracks such as 'Replica' and 'Self Bias Resistor' rather than blasting his way through, which gives a more contextual tone than straight power which may have not fitted so well.
'Ghost Heart' and 'The End Is Always The Beginning' are two of the taster singles released and show between them what encompasses a lot in this album, a couple of tracks apart, and showcases quite what Burton, Jayce and John have gotten right throughout this release. The sense of atmosphere that pervades through most stands as a true tribute of their collective skills in their creation of something that almost feels tangible, such is the level of involvement that you end up getting from it. Plenty of strong, melodic vocals combine with a highly melodic, at times charged musical approach from three genuinely talented members of the music business, combining their varying backgrounds and approaches to sublime effect.
My own personal standouts are probably the title track 'Apocrypha' and 'Key To The Cosmos', with the former having almost tribal or ritualistic drum sounds at moments, making it almost feel like a shamanic vision soundtrack, something quite at odds with a lot that Burton has previously done yet in a manner that would still fit so well with his legacy. The vocals at times are almost ethereal in their realisation which is the icing on the cake in terms of creating such an intense, encompassing atmosphere while still retaining what is a quite laid back feel to most of the album, possibly why they have had the gothic rock/metal tag attached to them in the same manner that Type O Negative had in the likes of 'Christian Woman'.
While I realize some Fear Factory fans may be a bit reticent in their thoughts on this, given recent events, it would be to their own detriment to not give this release the listen it truly deserves as a truly accomplished piece. The experience and talent of all three members shines through in equal measure, combining to create an album that not only is high on melody and introspection but is a fitting soundtrack and continuation of the legacy for Burton after so many years creating other music. While there are certainly differences in the style compared to a lot of Fear Factory, there is enough overlap and, above all, genuine all-around talent that this should still appeal to existing fans and new alike.
'Apocrypha' is released on Friday (9 October). You can get your copy HERE.
Look out for our interview with Burton C Bell, coming this weekend.
All content © Über Rock. Not to be reproduced in part or in whole without the express written permission of Über Rock.