By Jim Rowland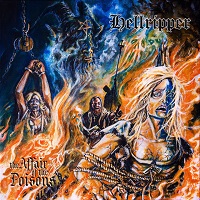 Based in the Scottish Highlands, Hellripper has been fast gaining a reputation for whipping up an infectious storm of blackened speed metal greatness in the spirit of old. 'The Affair Of The Poisons' is the second full length Hellripper album, and the first since signing to the revered Peaceville Records label.
It wasn't until after I had received this album for review that I realised I had actually seen Hellripper live, last year in London when they were supporting the mighty Midnight. And great they were too. Hellripper has quite a lot in common with Midnight – it's the brainchild of one man, James McBain, who, much like Midnight's Athenar, writes and records everything himself, with a few friends chipping in along the way, and then recruits a full band for live shows. Also like Midnight, Hellripper's blackened thrash/speed metal approach is very much influenced by old school greats like Venom, Kreator, Metallica and Motorhead amongst numerous others.
'The Affair Of The Poisons' contains eight cuts of ferocious blackened thrash/speed, with lyrical themes primarily revolving around witchcraft and the occult, with some tracks being based on historical events and Scottish legend, all spewed out with a venomous barking blackened vocal. It all adds up to a potent short'n'nasty 30 minutes of total metallic mayhem.
The catchy speed metal riffing of 'Spectres Of The Blood Moon Sabbath', 'Vampire's Grave' and the brilliantly titled 'Blood Orgy Of The She-Devils' owe as much to the influence of Motorhead and Tank as they do to the likes of Kreator or Sodom, whilst 'Beyond The Convent Walls', 'Savage Blasphemy' and 'The Affair Of The Poisons' are prime slices of raw brutal thrash in the tradition of the more extreme early pioneers of Euro thrash or their more underground North American counterparts. Closing track 'The Hanging Tree' is the most ambitious cut, exploring tempo changes and guitar intricacies to a greater extent and to fine effect.
Whilst for me, most of the old guard Bay Area American thrash pioneers knock out predictable, over produced, formulaic thrash-by-numbers albums these days, it's the younger upstarts like Hellripper in Scotland, Deathhammer in Norway and Midnight in America, amongst numerous others, that really capture the raw, energetic and thrilling spirit of the early days of thrash and speed metal, adding a blackened twist and keeping it alive, fresh and exciting. 'The Affair Of The Poisons' is a perfect example of that, and an outstanding album.
'The Affair Of The Poisons' is released on Friday (9 October). You can get your copy HERE.
All content © Über Rock. Not to be reproduced in part or in whole without the express written permission of Über Rock.