Written by Gerald Stansbury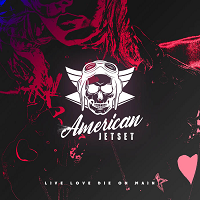 Something interesting seems to be occurring in music right now where we are seeing large elements of the past surge back to the forefront in rock music again. Sometimes it is in the guise of a band like Greta Van Fleet who owe a large portion of their sound to Led Zeppelin and manage to win new fans as well as infuriate older fans in a way not seen since Kingdom Come's debut album. Other times, it is the likes of someone like Gin Annie who takes elements of the past and successfully combines them with modern rock. American Jetset leans a little more towards the blend of both the past and the current, but their past is based in the old '80s Sunset Strip sleaze scene. Remarkably, the band only formed a couple months ago and has already released their debut EP with that friendly 'Name Your Price' option on Bandcamp.
What American Jetset does on this EP is essentially create Side A of a really enjoyable album with a mix of rockers and the ballad placed in that natural fourth slot in the running order. An electric riff gets things started for 'Go It Alone' which then moves to another level when the rest of the band join. Ian Kaine MacGregor's (vocals/ guitar) sounds somewhat like a blend of Phil Lewis and Taime Downe which really is a perfect match for the music. The band utilizes a huge chorus while Lance Reeder also shine on guitar throughout the song. Kevin Harrington (bass) and Jeff Bradford (drums) lay down a cool groove on 'Forgotten Tragedies' where MacGregor twists his vocals around the beat and the guitar riffs. The bridge channels modern hard rock and flawlessly leads back into the sleazy sounding chorus.
'Live Love Die' keeps the foot on the gas to start but then dials things back for MacGregor's vocals to take centerstage and own the spotlight. The chorus is not as immediate as the other songs on the EP, but this song has become a fast grower. The guitar solo kicks butt with multiple licks added throughout the last part of the song during the final chorus. 'Shameless' brings us a ballad that maintains an electrical frame as opposed to being based on acoustic guitar or piano, although it would be easy to hear it done those ways as well. The bluesy guitar recalls the likes of Junkyard or Jetboy, but I think people who listen to current mainstream rock would draw comparisons to modern bands. Because the song is electric from the start, it stays away from the potential trappings of a power ballad and is simply a slowed down awesome song. 'Monsters' gets the tempo back at full speed with excellent vocals leading into another awesome groove where the guitar riffs cut through our brains. The hook is not over the top but downright insidious in how it grabs hold of the brain.
I keep wanting to reach over and flip the cassette to Side B when this one ends as it just seems like we should have another five songs waiting for us. Given that American Jetset has only been together since October 2018, it is amazing that we already have these five quality songs and this release on the stereo before the end of 2018. American Jetset have us transitioning to 2019 in a great sleazy style and leave us wanting to hear more.
'Live Love Die on Main' is available now. You can get your copy HERE.
www.facebook.com/americanjetset/
All content © Über Rock.  Not to be reproduced in part or in whole without the express written permission of Über Rock.