By Monk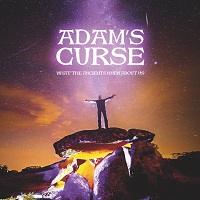 Bat Kinane will be a name well known to Irish rock fans of a certain, pre-Millennial generation, as he led the melodic rock combo Glyder to a modicum of national and international success during the mid- to late-Noughties, before unexpectedly disbanding the project when they seemingly were at the height of their powers, with a road of great potential opening up before them… but, then, there is an old saying about quitting when you're ahead, isn't there? Apart from minor forays back into the spotlight, Kinane seems to have been something of a musical recluse for the past decade or so, briefly re-acquainting himself with the ÜR massive back in 2013 with his rather interesting Maggy Simpson project, which itself disappeared back into the ether after just one promising, if somewhat flawed album…
And "flawed" most definitely is an adjective which can be applied to this, the debut offering from Kinane's latest project, which sees him re-uniting with long-term friend and collaborator John Treacy and drummer Brendan Gilligan, with whom his relationship stretches back some 30 years to an abortive thrash project… well, the island of Ireland is a small place, and it's musical circles coil around each other even more tightly. The band's roots can be traced back five years, when the trio played a one-off show together, previewing material from what was supposed to be their debut album: but then, as seems to Kinane's wont, things stalled – until the beer bug pandemic hit and paralyzed the global music business, leaving the singer/guitarist in the same boat as thousands of other musicians… something which prompted him to finally breathe life back into Adam's Curse and complete what he had set out to do half a decade ago…
It's interesting to note that the band takes its name from a rather lesser-known poem by the great Irish laureate W.B. Yeats as it is that inspiration which provides us with what is by far the album's strongest attraction: the deeply poetic, and in places even more deeply evocative, lyrics, which speak both from and to the heart. It's just a pity that their musical interpretation doesn't quite deliver them with the impact that they deserve… but I'll come back to that point in a moment.
The album kicks off with one of its strongest moments, the autobiographical 'A Vibe For Philo'. The song was originally written after Kinane's last appearance at the festival of the same name, held every year to mark and celebrate the life of Ireland's foremost rock 'n' roll poet, Philip Lynott. Like Lynott, Kinane tells a story with his lyrics, one which is immediately identifiable, one about the unifying power of music as he talks about drinking at the bar with a Spanish fan, neither of them able to understand a word the other says but united by their love of music. It has a suitably Lizzy-esque vibe, but contains a lack of power that hints at the problem to come…
And that is that, on too many occasions, the trio do not back up the power of the lyrics with the musical elements. In a lot of places, the sound is too lightweight, too twee, too second division pub rock in its overall delivery, when it should have delivered so much more. Where is the Lynott-style bass crunch on 'A Vibe…'? 'Tattoos And Loneliness' could be up there with 'Bandaged Knees' with its pained, fuck-it attitude, but lacks just that gritty edginess – although I have to say that DQ, who can really identify with the song's message, totally disagrees with me, describing it as "perfect". But that's the joy of music: it evokes different feelings and reactions in different people.
As I said, 'What The Ancients Knew About Us' is a lyrically powerful album. Tracks such as the just-referenced 'Tattoos…', 'Borrowed Time', the Beatles-esque 'Funeral Of My Soul' and particularly the back-to-back duopoly of 'What Lives Matter' (another of the album's strongest musical moments but which could have done with a bit more spit and fury, especially in the vocal department) and the challenging 'Unmask Your Face' have important messages which deserve, no need, to be heard… Yes, it has it's flaws: 'Poison Spring' is a confused mess of styles, with its baroque-meets-flower power mien interrupted by an overly aggressive guitar undertone, while 'My Canoe' is more Donovan than Dylan, when more of a nod to the latter (and less of the "doo-be-doo" chorus section) could have taken it to another level.
'What The Ancients Knew About Us' is not an unpleasant album. In fact, if anything, it's just too pleasant. It does showcase a poetic lyricist who can speak with clarity and insight. If you're a fan of the likes of ÜR's good friend Baz Francis, or the solo material produced by the likes of Dan Reed, Danny Vaughn or Mike Tramp, then this album inhabits similar territory and will be right up your back alley.
'What The Ancients Knew About Us' is out now. You can get your copy HERE.
www.facebook.com/adamscurseofficial
All content © Über Rock. Not to be reproduced in part or in whole without the express written permission of Über Rock.