By DJ Monk and The Dark Queen
It's just as well we don't really celebrate Hallmark Day here at ÜRHQ – well, not in the sense of going out for an over-priced dinner that would cost you half the amount any other night of the week, only to have waiters hovering over the table forcing your to virtually gulp your grub down yer gob at heartburn-inducing speed 'cos there's a queue a mile long waiting for a table you can usually spend all night hogging… sure, wouldn't we be much better served crammed into on of our favourite clubs along with an assorted bunch of fellow metallians for an evening of ear-shattering DM?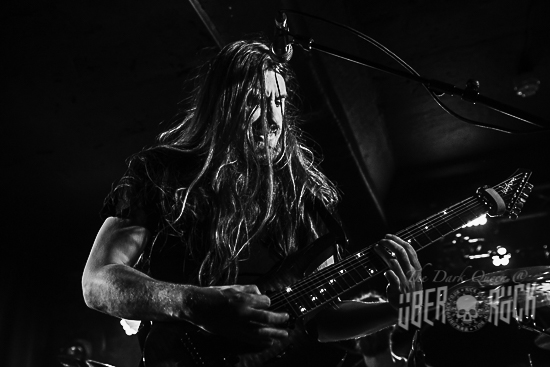 Things don't start that well, however, as assorted issues – and not just technical ones – mean that soundcheck substantially over-runs: indeed, not only are Bloodshot Dawn only really starting to do their checks at the allotted door opening time, but well past that at which they're actually due to start playing for real.  The result is that, with proceedings pushed back more than half an hour, the Hampshire quartet return to the stage just what seems like seconds after the audience start filing into the cramped room – something which is noted, somewhat wryly, by frontman Josh McMorran as he encourages those who have been waiting patiently in the cold outside to come to the front of the stage as "there's people trying to get in and you're stopping them!".
Thankfully, by the time they rip into 'Quantum Apocalypse' there is a substantial crowd starting to cram into the venue, and they truly appreciated BSD's brand of tight, practised and efficient thrash.  There does seem to be a problem with the lights, however: they fail completely at the end of the first song and then, when they come back on, they are stuck on a steady red glow, which not only remains for the rest of the opening set but for the two that follow it. A number of reasons are proferred forward, both on the night and afterwards, from a fused electrical socket to "that's the way the band [ie the headliners] want it" to a corrupted file on the desk: whatever the cause, it does sweet FA for the overall visual aspect of the performances (never mind the chances of DQ getting any decent photos): but, hey, this is a metal show, and the bands battle on regardless.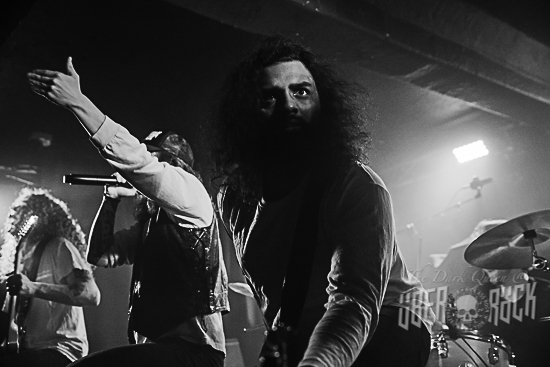 Next up are Danish new kids on the block, Baest, whom we will both admit to never having heard never mind heard of before they appeared on the posters for this leg of the 'Kill The European Cult' tour. And it must be admitted that we had considerable discussion about how to actually pronounce their name, with herself plumping for "beast" and refusing to change her mind no matter how many alternatives were thrown her way. We'd also been intrigued by the fact that they had played live on Danish breakfast television a few months' back – something which we discussed with them in our pre-show interview:
Musically, they deliver an infectious death metal featuring pummelling rhythms and riffs underpinned by double kick sound that would see Mattias Melchiorsen batter Mike Tyson into submission.  The audience needs no second invitation to "show those horns" as heads are flailing from the beginning to the end of their allotted 30 minutes. It's energetic and tight, with the right sense of constrained mayhem, and wins them a tonne of new fans if the activity around their merch table afterwards is anything to go by. I'm sure I'm not the only one who will be looking forward to wrapping my ears around the new album when it drops in September.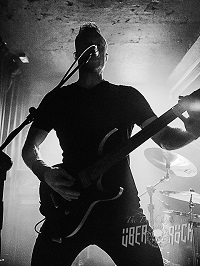 Next up, making a long overdue return to this corner of the Über Kingdom of Rock 'n' Roll are Dyscarnate who, despite being only a trio, make the biggest noise of the night so far. Their high-quality DM is intense yet intricate, blending the right combination of aggression and melody, Tom Whitty's thick, grooving guitar riffs topped off with their clever use of dual vocals, which add both acidity and clarity to an already passionate and ear-shredding sound, in turn underpinned by some positively Satanic double kick work from the other seemingly laconic Matt Unsworth. In many ways, as with all good DM bands, it's a much about what the Sussex trio leave out as include, as each song has plenty of room to breathe and live, making them all the more effective as a result. Another titanic performance, only slightly ruined by the continuing absence of decent lights…
…Which suddenly seem to start working as Decapitated kick into their intense and brutal set, as white light bathes the stage and strobes pierce the otherwise darkened venue. To say that 2018 had been an eventful year for the Polish quartet would be something of an understatement, but the events Stateside seem to have fed their hunger to show no mercy right from the very outset. The positively rabid audience are treated to an equally sick performance from the headliners, who have their phasers set to kill and aren't afraid to use them.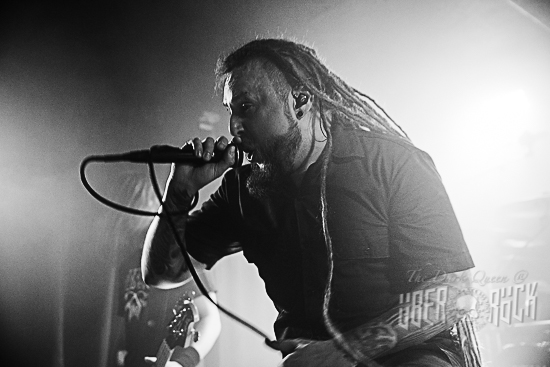 Despite his giant frame, Rafał Piotrowski constantly risks crushing his own skull on the low ceiling as he climbs on the wedges to encourage the pit to even higher levels of intensity: the audience do their best to oblige, but somehow can't match those they demonstrated in response to Baest's similar invitation to open up the floor.  Nevertheless, it is a total annihilation of the senses – full on DM the way it is supposed to be delivered, with the old school mentality of the genre combined with new age aesthetics combined in perfect synchronicity.  Brutal stuff indeed; and, as I asked at the outset, would there be any other way you'd rather spend Hallmark Day?
PHOTO CREDIT: All photos © The Dark Queen/Über Rock. You can view our full gallery of photographs HERE.
All content © Über Rock. Not to be reproduced in part or in whole without the express written permission of Über Rock.