By Rich Hobson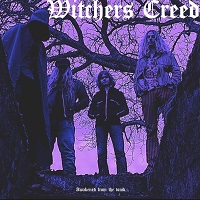 Hailing from Sweden and gorged on a steady diet of primordial doom acts (Witchfinder General, Trouble and – of course – Candlemass), Witchers Creed haven't so much built an altar to worship doom metal's earliest forms as they have constructed an entire cathedral to it. There isn't a single moment on 'Awakened From The Tomb' that doesn't feel like a celebratory cheer for the best hallmarks of '70s/'80s style doom, and yet the record pops with a freshness that keeps the band sounding too mired in replicating the past as they blast out some ballsy doom-tinged rock anthems of their own.
The cowbell intro of 'Witchers Creed' is likely to immediately get the brain into those 70s rock vibes – particularly as it bears striking resemblance to 'Mississippi Queen' – but the sheer swagger they come out the gates with marks this as much more than just mindless lip service. Over the next nine tracks the band spin a yarn of epic sounding doom metal; howling guitars, rumbling bass and clattering drums pitched to perfection as they mark the sign of a band that don't just want to replicate the past but surpass it.
Everything the band do is carefully measured to showcase their abilities and while the modern doom scene often pares back its more outlandish tendencies, Witchers Creed embrace them front and centre. The end result is a record which slams hard when it wants to – from the surging riffs of the eponymous opening track to the extended instrumental outro of closer 'Awaken From The Tomb', roaring to life like the resurrected spirit of 'War Pigs'.
Though the record lies a little too close to its source of inspiration to feel like it can truly stand on its own two feet yet, there's a sense that 'Awakened From The Tomb' is more a statement of intent than dogged roadmap of where this band can go. After all, with the sheer exuberant energy they showcase in every riff, beat and lick, Witchers Creed are already laying out their stall as one of modern doom's more  swa swagger-inclined bands; something the scene is sorely lacking now with so many bands falling deep into the realms of romanticism or an almost kvlt sense of adherence to only the most underground of styles.
So few bands in the doom/occult rock spheres these days court a sense of mainstream appeal, and yet Witchers Creed evoke the same irrepressible strut as bands like Black Sabbath or Ghost did before them, suggesting an extremely bright future ahead. It's not hard to buy into either, when already we have songs like the mournful 'Larissa' or the grinding 'Salem (Ressurection)' that show Witchers Creed as a band whose first steps already show much promise. Marrying worship for the past with an excitable energy for the future, this band are an absolute must-hear for any doom fanatic.
'Awakened From The Tomb' is out now. You can get your copy HERE.
www.facebook.com/witcherscreed/
All content © Über Rock. Not to be reproduced in part or in whole without the express written permission of Über Rock.