By Monk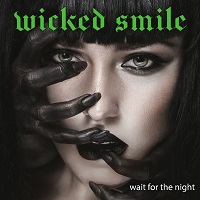 Wicked Smile is a bit of a double header. It is the latest project from Aussie guitarist Steve Janevski, who will perhaps be known to regular ÜR readers as the driving force behind The Radio Sun, a band I have ranted and raved about several times over the years, with at least two of their releases topping my personal end-of-year album polls. The second hit comes from the fact that it sees Janevski reuniting once more with his long-time friend and collaborator Paul Laine, who once more has stepped up to produce and partly co-write this debut opus.
While Wicked Smile's sound will be familiar to fans of both TRS and Laine (as well as the latter's band mate, Bruno Ravel, who handled the mixing duties – to superb effect, I may add), this is a much heavier sound overall, often veering towards power metal while paying reverence to AOR and classic melodic rock. Much of this is down to vocalist Danny Cecati, who is more than capable of emulating the sonics of Dickinson, as on the album's title track, as he is Halford ('Sign Of Times') while at the same time touching base with the likes of Jack Blades ('Daze Of Delerium') or Ronnie Atkins ('Last Goodbye'). He has an incredible range, capable of passion and pathos in equal measure, and each of the ten tracks truly showcases this to full effect.
That's not to say that the rest of the band are in any way slouches, because, of course, they aren't. Far from it. Janevski, in partnership with Dave Graham, delivers track after track of massive hooks, rambunctious riffs and searing solos, while the rhythm section of Glen Cav and Jason Tyro are tighter than the rules for getting into my, now former, local pub. The result is an exemplary collection which touches multiple musical bases but does so in a cohesive manner and with a unified, and unifying, effect, and is perhaps one of the best debuts of its genre since those of Eclipse, Icon, Spread Eagle and their ilk.
You don't need to 'Wait For The Night' to crank this mofo up to the max. Do so at 10am, or 12 noon, or as soon as you get home from the treadmill day job. Hell, really annoy/educate the neighbours and put it on 24/7 repeat… This is an all-killer-no-filler of AOR classic rock/metal-infused anthems which I have no doubt will be bothering the upper reaches of my personal "albums of the year" choices in just a couple of months' time.
'Wait For The Night' is released today (15 October). You can get your copy HERE.
www.facebook.com/wickedsmileband
All content © Über Rock. Not to be reproduced in part or in whole without the express written permission of Über Rock.