By Monk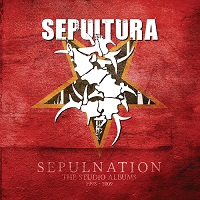 Sepultura are one of those bands who split fans' opinions. There are those who remain firmly entrenched in the "Max era" and refuse to listen to anything which the band have produced since their founding frontman spectacularly quit the band a quarter of a century ago. Then there are those, obviously much younger fans, who are familiar only with the "post-Max" era. And, of course, there is the third faction, who accept that change is inevitable and have stuck with the band from the beginning to the present day…
As its title suggests, this five CD boxset covers the first decade (and a bit) of that aforementioned "post-Max" era, including not only the first five albums recorded with Cavalera's replacement, Derrick Green, but also the now very rare 'Revolusongs' covers EP, recorded and released in the gap between 'Nation' and 'Roorback' (the EP tracks, minus the 'Enter Sandman'/'Fight Fire With Fire' medley, are included on the same disc as the latter).
Now, I'll hold my hands up and admit that I sort of more or less lost track of Sepultura in the period covered by this boxset: looking at my record collection, it jumps from the penultimate Max album, 'Chaos A.D.' to 'Kairos', almost 15 years later: it's not that I had anything against the change in line-up (which should be evidenced by the conspicuous absence of 'Roots'), it's just that I sort of turned my back on music while off doing other things, like raising a family and having a "proper" job… Therefore, this collection has served to fill in that gap, and taken me on an invaluable journey into the narrative of the second stage of the Sepultura saga.
Now, diehard fans, and especially those who fall into the second and third camps outlined in my opening comments, no doubt will possess all of these albums, and so it could be argued that, apart perhaps from the inclusion of the 'Revolusongs' EP, there is little to encourage repeat purchasing – unless, of course, you've worn out your original copies and need to replace them…
However, what it does do is allow the listener to tune into the evolution of the band and their sound during this second stage of their career, providing invaluable insight into the progression of all those involved, both collectively and individually – and especially Derrick Green as emerged, with increasing confidence, from the shadow of his predecessor and slowly but surely stamp his own seal on the Sepultura sound. The latter part of the discography featured in this collection also, of course, included a further period of transition for the band, as the "other" Cavalera brother, drummer Igor, also left following the release of this incarnation's fourth album, 'Dante XXI' (which in itself is perhaps the most interesting of the Seps' albums, being their only concept piece and also marking a move away from their increasingly political direction and a, albeit brief, return to their earlier fascination with things mystical).
It was something of a cathartic, enervating and overpowering exercise to listen to all five of these albums back-to-back: but, then, the neighbours were annoying me with their rave noise booming through our party wall, so it seemed a somewhat appropriate counter-attack \m/ That aside, this is a worthy and timely exploration of the Sepultura legacy, especially with the band on a high with what is widely regarded as one of their best albums in a while, as well as their highly successful lockdown 'SepulQuarta' project, added to the fact that they're about to head our way for a series of live shows, so a well-timed reminder indeed… Hell, it should even convert a few of those diehard old-school "Max-onl" generationalists…
'Sepulnation: The Studio Albums 1998 – 2009' is released next Friday (22 October). You can get your copy HERE.
Sepultura are scheduled to play five dates in the ÜK and Ireland in November, with support from Sacred Reich and Crowbar:
Tuesday 23 – Wolverhampton, KK's Steel Mill
Wednesday 24 – Dublin, Academy (sold out)
Thursday 25 – Manchester, O2 Ritz
Friday 26 – Glasgow, Garage
Saturday 27 – London, Electric Brixton
They will also play Download 2022 on Friday 10 June.
All content © Über Rock. Not to be reproduced in part or in whole without the express written permission of Über Rock.