By Jonny Bakes.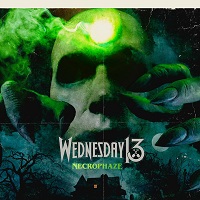 I'll never forget the moment that a young impressionable JB was first introduced to Wednesday 13 when I was handed the 'Fang Bang' album. It had a great punk sound which really appealed to me at the time, and the use of horror and morbid themes with Wednesday's clever word play cemented it as one of my favourite albums at the time. That feels like a lifetime ago but since his surprisingly good performance at Bloodstock last year, my interest in Wednesday 13 has been somewhat rekindled. So, when I found out that there was a new album coming out, I made sure to get my hands on it for a sneak peek.
The Duke of Spook has recently been selling out almost every date on this latest tour with his band, with a lineup that has remained largely unchanged for the best part of a decade. So, it's clear that Wednesday 13 is still as relevant now as he was back in 2006, when I had my first encounter, making it the perfect time for a new album.
His last album, 2017's 'Condolences' was a more gloomy album than earlier Wednesday 13 releases and marked somewhat of a drift from horror punk to more of a "horror metal" feel whereas 'Necrophaze' is a return to that blend of horror, punk and comic elements that makes Wednesday stand out from the rest. That's not too say that the heavy elements have been discarded, instead they have been worked throughout the album to give an overall heavier punk experience than the likes of 'Transylvania 90210' or 'Fang Bang'. To me this sounds like the band as a whole have managed to find their groove and are able to balance the varied styles of recent releases to form a strong Wednesday 13 sound.
Of course, the backbone to that sound is Wednesday's voice which is as strong today as it's been since the start of this chapter of his career back in 2005 and is still instantly recognisable. When you combine this with the heavy riffs and haunting synths of some tracks and the raw punkiness of others, the result is simply great. All of this works as a great backdrop to explore yet more horror movie tropes, and other morbid subjects, through the course of this album.
The horror themes do not end with the music on this release! The cover art for both the CD and LP Vinyl editions of this album have been influenced by particularly famous horror films. To inspire the collectors among us, for the first time there are two distinctly different editions of the album being released. The CD edition has cover art that resembles the eeriness John Carpenter's 'The Fog' whereas the LP edition bears a comic-book like resemblance to 'Creepshow'.
'Necrophaze' is also the first Wednesday 13 album to feature several high profile collaborative artists lending their talents to enrichen the tracks. Christina Scabbia (Lacuna Coil) and Alexi Leiho (Children of Bodom) are both present on the album, among others. But perhaps most importantly, the appearance from Alice Cooper feels like it has been a long time coming by considering the similarities in influence. Possibly the only person who could have been more fitting than this would have been Rob Zombie!
Delving into a couple of the tracks now… 'Bring Your Own Blood' puts a very different spin on the standard instruction for every college party, because in 80s horror movies there's always some sort of party going on before things start to go south. The track starts with a short skit of some hapless college kids arriving at a party before a distorted bass line heralds the start of the song. This is one of the heavier, more synth driven tracks on the album which works together to give an essence of Goth to the track. As Wednesday himself put it, this song is like a "violent Monster Mash."
My personal favourite track on this album has to be 'Bury the Hatchet' as it brings everything I love about Wednesday 13. It's upbeat with a great punk riff, rocks a cracking guitar solo, and contains the obligatory play on words because where else do you birth a hatchet other than into someone's head? It may be one of the shortest songs on the album but it's the one that will probably get plenty of play time from me. It's easily up there with the likes of 'Til Death Do Us Party' and deservedly so.
So overall, this is a real return to form for Wednesday 13 in my opinion. It manages to blend all of my favourite elements of the earlier releases with the heavier elements that have developed in recent years. If you're a fan of the humour that normally runs through Wednesday's albums then this will definitely be one for you. And if you aren't already a fan of Wednesday 13 and are looking for something to scratch that Horror Punk itch that you didn't know you had, then look no further than this. With Halloween looming just around the corner now, it's the perfect time to get acquainted, or reacquainted, with the Duke of Spook.
'Necrophaze' is released on Friday (27 September). You can get your copy HERE.
Wednesday 13 is currently on the road with Static-X as part of the latter's 'Wisconsin Death Trip 20th Anniversary Tour', which continues in Cardiff tonight (Wednesday 15 September) and then as follows:
Thursday 26 – London, Electric Ballroom
Friday 27 – Nottingham, Rock City
Saturday 28 – Leeds, Stylus
Sunday 29 – Southampton, Engine Rooms
Tuesday 1 October – Newcastle, Northumbria Institute,
Wednesday2 – Glasgow, Garage
Thursday 3 – Manchester, The Ritz
Friday 4 – Birmingham, O2 Institute
www.facebook.com/officialwednesday13
All content © Über Rock. Not to be reproduced in part or in whole without the express written permission of Über Rock.