By Jolee Flatman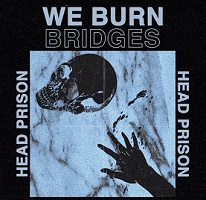 We Burn Bridges are an underground band based in Darwin, Australia. Producing a relentless, post-hardcore sound, combining gnarly vocals with choruses that focus on clean vocals. If you are one of these individuals that believe these two vocal styles should not merge together, then many songs on the EP are not for you. For fans of The Amity Affliction and Secrets.
Before checking out the debut EP, I had never heard of these guys. Which could be combination of them not being a UK-based band, and that they appear to have a pretty small fan base following on social media platforms. 'Head Prison' projects a sense that the lads are in the early stages of their musical journey. This is due to the overall album lacking a level of complexity, in terms of lyrical merit and overall sound. Even though many of the songs contain moments that are bursting with solid aggression, and exceptional tone, the album as a coherent entity is very similar. It is hard to differentiate between each song, on a first listen.
However, the messages encoded within the songs hold powerful meanings. For example, the track 'One Punch' is based on the violence that the drinking culture provides. These messages hold value,  which cannot be denied, although the way they are executed doesn't justify this. The writing process needs to be of a higher level, to truly reflect the passion towards these topics and the importance of them.
On a more positive note, considering We Burn Bridges have not had much experience, 'Head Prison' is a good EP. Packed with melodic rhythm, consistent riffs and catchy choruses.
My favourite pick from the EP would be the track 'Silhouette'.
'Head Prison' is released tomorrow (Friday 17 May). You can get your copy HERE.
www.facebook.com/WeBurnBridges/
All content © Über Rock. Not to be reproduced in part or in whole without the express written permission of Über Rock.