By Monk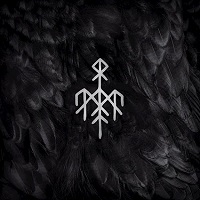 To be honest, it is virtually impossible to know where to start with an assessment of this powerful piece of music, as it not only defies many perceived modern conventions but also feeble, inane categorization, compartmentalization and, in many places, description and elucidation, as mere words are not enough to capture and transfer the deep feelings which it evokes. It is extremely tempting to just leave this review with two words – and they are "sublime genius". But, of course, I have to say more than that, and so I will attempt to convey the beauty and depth of this true masterpiece of musical art.
Like the rare, totemic bird from which the album takes its title, 'Kvitravn' soars with majestic magnificence from beginning to end, guiding us on an atmospheric journey of self-discovery and reclamation, sweeping high over the mountain-tops and deep into the ancient fjords of the Nordic landscape, and its associated mythos, which inspires the soundscapes presented here. The result is an experience which more than transcends that of listening to an album; it is one which slowly seeps its way into your soul, bringing the tales of the old homeland to vibrant, relevant life while at the same time capturing and evoking a simpler, much more rewarding way of life, when man and nature had a mutual, if wary, respect for one another and their respective powers.
These are the songs of the olden times; times spent deep in the forest, around a roaring fire over which a freshly caught deer slowly roasts, wolves sleeping at our feet (as mine is doing as I write this) as tales of triumph and tragedy are recited and repeated, washed down with copious amounts of mead. Mythic beings dance and flicker between the worlds, caught fleetingly in the flames that warm our feet and our hearts before being snatched away into the darkness of the night by a passing breeze, a last, lingering breath whispering quiet promises of eternal glory in your ear before its ethereality is gently snuffed out.
'Kvitravn' is an album whose very essence speaks with a lucid tongue. It does not need flowery speeches or overblown hyperbolae to ascribe its impact. It is an album that not only absorbs its way into via every pore in your being but also absorbs you into itself. As I said above, it is work of sublime genius. And now I will leave it at that.
'Kvitravn' is out now. You can get your copy HERE.
Wardruna will hold a virtual release show, billed as 'First Flight Of The White Raven', on Friday 26 March. Tickets are available HERE.
Prior to that, frontman Einar Selvik will take part in a special livestream event as part of the annual Jorvik Viking Festival, on Saturday 20 February. Billed as 'That Jorvik Viking Thing' – the name is a reference to the ancient Norse term for a gathering or meeting – will see Selvik talk about his music, demonstrate some of the instruments he uses and perform some of his most recent music.
All content © Über Rock. Not to be reproduced in part or in whole without the express written permission of Über Rock.