By DJ Monk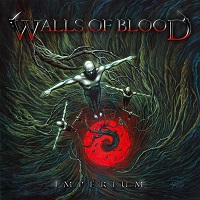 Walls Of Blood is the latest project from Canadian guitarist Glen Drover, who may be familiar to long-term ÜR readers for his brief stints with King Diamond, Megadeth, Testament and the first incarnation of Geoff Tate's post-Queensrÿche project. Remarkably, he has been silent on the recording front for pushing eight years – since his debut solo album, the instrumental 'Metalusion' back in 2011. But, now he has re-emerged from the darkness of musical exile with this collaboration with an assortment of different vocalists, including the likes of Tim 'Ripper' Ownes, his old bandmate Chuck Billy, Todd LaTorre (oh, the irony in that one) and Firewind's Henning Basse, among others.
Unfortunately, like many projects of this nature, 'Imperium' fails to live up to the sum of its parts, and at the end of the day (or the several listens it takes to write a review), it is just a fairly standard heavy metal album, albeit one which transfers itself across the generic spectrum of the mien.
Things get off to a fairly mediocre start with the mid-paced thumper 'Leave This World Behind', featuring Nils K Rue, vocalist with Drover's now seemingly defunct Eidolon project: to be brutally honest, there is nothing that jumps out at you in terms of wanting to retain your attention for the rest of the album, and you do indeed want to leave it (the track that is) behind as quickly as possible. 'Discordia is a bit better: more ambitious in its scope and featuring a 'phoned-in contribution from current 'Rÿche chanter LaTorre, it is characterized by an intense bass line from Fates Warning mainstay Joe DiBiase, which is nothing more or nothing less than you would expect from a musician of his prowess.
'Waiting To Die', featuring Chuck Billy, 'Blood Sacrifice Ritual' and Tim Owens' 'Tarnished Dream' glide by in a blaze of "meh, so what?" antipathy before the first genuinely ball-grabber of the album… and that is Matt Cuthbertson, vocalist with Canadian thrashers Untimely Demise: the singer brings a degree of grunt to the title track which is missing from the performances of his more illustrious predecessors, his raspy growl adding a depth to what is otherwise a fairly mundane thrash workout.
In fact, it's as if the album only awakens when it passes the halfway mark, as 'The Fault Of Man' is a proper bruiser, built on a massive, rumbling bass and bottom-heavy riff and featuring an impressively acidic performance from Henning Basse (the second, and best, of his three contributions), while 'Dark Lord Of Sleep', featuring Striker frontman Dan Cleary, is as solid a thrash metal track as you're gonna this or any other day.
But then Drover goes and blows it with a totally by numbers, and therefore needless, cover of Alice In Chains' 'Junkhead', right down to the copycat vocals: I'm a great believer that, if you're going to do a cover then you should put your own twist on it, not turn it into a pastiche of the original, which unfortunately is the effect Drover attains here. Closer 'Seven Spirits' is another mundane slice of mediocrity which summarizes most of what has gone before.
I genuinely don't know what I expected from this album. And I don't know what anyone else's expectations will be… I'm just glad that they weren't actually too high, or too low, as they were neither exceeded or attained. A disappointing oeuvre from musicians who should be capable of so much more – not least a clear demonstration of the passion which is missing from this offering. 'Imperium' is neither imperial or imperious. More like perilously close to the bin.
'Imperium' is out now.
www.facebook.com/Walls-Of-Blood-579538659141096/
All content © Über Rock. Not to be reproduced in part or in whole without the express written permission of Über Rock.