By Jason Walker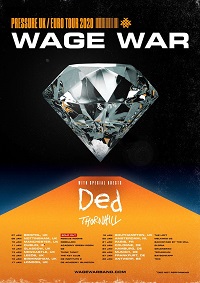 First gig of the year in 2020, returning to one of my regular haunts in Manchester, Rebellion. To say I'm a bit excited about this gig is a complete understatement as both Wage War and Thornhill released two of my favourite albums of 2019 and I've been itching to hear more stuff from both of them. Bringing along a band I'm not familiar with, DED, this will definitely be a show that'll blow the Christmas cobwebs off me in spectacular fashion.
After some confusion about door times, I've got in just as Thornhill start with their album opener, 'Views From The Sun' and… It really does not sound good. So far all I can hear is drums and vocals and a tiny bit of guitar at the moment so hopefully this is just a minor sound issue.
A bit further into the set, we hear one of my favourites, 'The Haze', absolutely fantastic song and seems some of the sound issues have been fixed as the guitars and bass can now be heard, which I'm happy about as they're a fantastic band. Sadly, through the whole set the drums completely overpower everyone else in the band barring the vocals and the odd bit of djenty guitar. I was genuinely looking forward to seeing Thornhill rip it up here and although the crowd was enjoying them, I feel a bit miffed at their set being marred with fairly poor sound.
Second on tonight is DED, the singer dressed up like something out of an epic Viking saga and sounding like a mix between Sepultura and KoRN. The sound seems to be a bit more balanced this time round, even if the drums are still a bit too strong. DED seem to be displaying an interesting mix of influences as the second song in their set seems to have the same sort of bombastic nature that some of Skindred songs have. The crowd is absolutely loving this, bouncing along to every command form DED's singer. On its own, I wouldn't normally listen to this stuff, but I can't deny that DED are absolutely smashing this live set with some attitude!
On the whole DED delivered a really solid, tight set that showcases a really interesting mix of styles that blend together extremely well and pay homage to their influences in spades. There's a little bit of something for everyone here and despite being a bit of an oddball on the bill for this tour, they definitely are more concerned with raising absolute hell on stage, great show.
Wage War start HARD, wasting zero time into whipping the crowd into an absolute frenzy with 'Who I Am', the opening track from their latest album, 'Pressure'. The venue is absolutely heaving by this point, a sold out show it most certainly is, everyone is bouncing and screaming the words right back at them.
After blasting through 'prison', there's a bit of a callback to some earlier material with 'Fade away' has a sea of arms in the air pointing back at the band to sing along to the chorus, because if there's one thing Wage War definitely do well, it's a bloody catchy chorus! The pit is now 100% in full swing now as Wage War go back further into older material with some gritty breakdowns and chuggy grooves, they definitely haven't forgotten their roots.
Going back to more stuff from 'Pressure' they start on 'Grave' which is probably my favourite song off this album, a bit of an unusual sort of Chorus for them but man it's catchy in the extreme. Admittedly I am kind of waiting on the newer songs from 'Pressure' as I've seen these a few times now. As the set goes on, the pit widens that little bit further to the point where it's swallowing up most of the front audience area in Rebellion, Manchester is going absolutely off it right now – crowd surfers, stage diving, the absolute works.
Picking on some more 'Pressure' tracks, they give one of their more ballad based songs with 'Me Against Myself'; the audience here has clearly been rinsing the album as much as I have because they are singing the lyrics back loud as hell. Even 'Low' gets the crowd screaming back the lyrics – strong rhythm, face melting riffs, catchy chorus, Wage War in a nutshell right there.
Wage War right now are absolutely on the top of their game, every time I've seen them they get that little bit better despite already having set such a high bar from the word go. It's fantastic to see a band like them doing a headline tour and seeing how many venues are either sold out or low on tickets speaks volumes about their popularity. 'Pressure' was a great album so hearing some of the stuff from it come to life in a live format is a treasure.
Going back to Thornhill, I really hope to see them again as coming from Australia to the UK to tour is no easy feat and it may be a long time before they can return and I truly hope they do and despite the sound issues it hasn't done anything to discourage my absolute adoration for them.
The tour continues at The Garage in Glasgow tonight (Sunday 12 January), Think Tank in Newcastle Upon Tyne tomorrow (Monday 13), The Key Club in Leeds on Wednesday (15), the O2 Institute in Birmingham on Thursday (16) and the O2 Academy Islington on Friday (17), finishing at The Loft in Southampton on Saturday (18).
All content © Über Rock. Not to be reproduced in part or in whole without the express written permission of Über Rock.