By David Stewart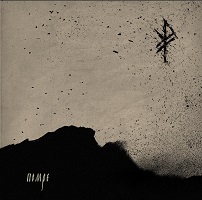 For this album review we head to the darker, heavier side of the Überverse with the latest offering from Russian black metal band Vspolokh.
For those who haven't yet heard of the band, they are by no means new to the black metal scene. Hailing from the Ural Mountains in Russia, or "The Urals", the band formed in 2004 and even though they have been around for 16 years, releases have been few and far between. This current album is only their second full length release, with their previous, 'Sorrow Of The Past' being a decade ago. In that ten-year gap though, they have released a split album, 'Amongst Mossy Stones' and 'Longing For Death' in 2013 and 2014 respectively. Except for the single they released last year, 'Чрьнътопь' or 'Czernotop', this is the first new music that the band has released in six years.
So, let's get onto their new offering and see what you can expect. The album features eight tracks, though three of the tracks are an intro and two other tracks, which could be described as interlude pieces meaning the album has five full length actual vocal tracks. Don't be put off by that though and don't be thinking that because of the number of tracks that this will be a short and sweet piece of listening. The album weighs in at just over 56 minutes and excluding the intro and two interlude pieces, the shortest song on the album is just shy of eight minutes long. The longest track on the album lasts just over 11 and a half minutes.
Sometimes you have to put quality over quantity and in the case of this album quality stands out all the way and even though there are only five actual vocal tracks on the album, its more than enough to keep you satisfied.
The production quality is top notch and the tracks are great and all flow really well together. The album contains powerful, heavy, brutal and at times some stunning melodic moments which all balance out very nicely bringing the album together almost flawlessly.
It's an album worth repeated listens as you find yourself hearing little things and pieces that you didn't quite catch the first time around.
All in all, a good solid black metal album that is definitely worth a listen for anyone who is into the genre, and if you haven't heard of the band then fans of the likes of Behemoth or Marduk should really give these guys a listen. I don't think you will regret it.
'Помре' is out now. You can get your copy HERE.
All content © Über Rock. Not to be reproduced in part or in whole without the express written permission of Über Rock.