By DJ Astrocreep
Another gig in Manchester looms this evening at one of my favourite venues in Satan's Hollow with antipodean prog pop metal act Voyager as our headliners, with support from three acts. The usual short train hop across to my home from home sees me arrive just in time for Sertraline to open the bill.
Sertraline open the evenings proceedings and it's nice to see a few faces down to support them. The band are very good as a whole but it is vocalist Lizzie that adds an extra dimension to their sound, differentiating them from a lot of musically similar acts. Her ability to sing very strong clean vocals and dropping, seemingly effortlessly, into a growl and back as the song parts require is an intrinsic part of their sound. The Leeds and Manchester based band are very much a modern melodic affair, with guitarists Mike and Wilson combining extremely well – despite Mike's issues with his six-string – to form the melodies with Lizzie's vocals, while the rhythm section of bassist Hendo and Si on drums drive the rest on, fulfilling their roles immaculately. We even get audience participation for their last track, helping to properly warm us all up even from their opening spot. An impressive performance.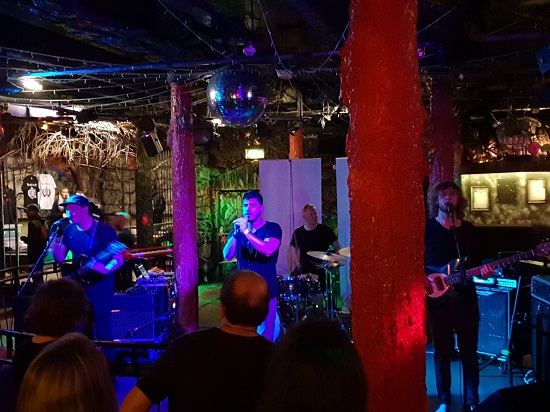 Ravenface take to the stage after a short changeover to bring their melodic alt-metalcore riot to us, with the crowd increasing in size to what is already a quite respectable attendance. Vocalist James has prior prog pedigree himself, shich shows in his vocal range and ability, adding that extra touch of melody which completes the more than able talents of the rest of the band. They have some softer, more AOR elements at times, though I'm not even sure myself if AOR metal is a thing, which comes well in a live setting.  There are plenty of heads nodding as I look at those around me, showing that their set is as popular with those around me as it is with me personally. Another strong performance.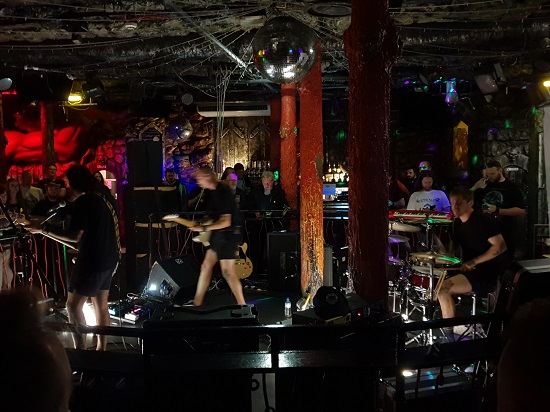 A three-piece instrumental post-rock act, Coldbones are our main support act for the evening, dialling up the atmospheric, at times almost ethereal side even further still. The clever use of tube lights and strobes on the floor adds to the musical side, making it more of a show than our previous couple of acts. The musicianship is phenomenal right from the off, starting with that softer ethereal sound I already mentioned, though by the time we get four songs in, it's already becoming more like a melodic glacier of noise, moving its way softly but purposefully through us all. The melodic side never leaves, even when this wall of noise hits us, with the natural peaks and troughs of their songs feeling like a compelling journey. An enthralling live act.
Voyager have come a long way for this tour, though they've played at this venue before, however without guitarist Simone after she fell down the stairs and couldn't play the gig, as told by our frontman. The melodies are heavy and very easy to appreciate. They sound a lot more accessible than most of our other acts this evening, with the possible exception of Sertraline, though this is not to any detriment of quality of song, as can sometimes be the case. We even get some very '80s moments between songs, as the keytar is produced by vocalist Daniel on a couple of occasions, providing further depth of sound and elements to their set.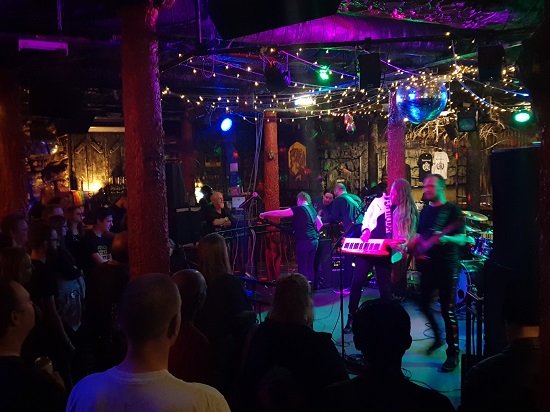 They certainly have their heavier moments but are, generally speaking, our lightest of the evening. The clever use of backing tracks between songs means we don't have any dead time in terms of noise, also taking the pressure off the frontman to hold our attention between songs, while the humour and general good nature of the band, combined with the music, means it feels like an almost spiritual uplifting at times, giving an extra real edge to the performance. Guitarist Scott, providing both backing and additional vocals, does an excellent job, as do the rest of the band. We get a new track or two from their forthcoming album, 'Colours In The Sun' (due on Season Of Mist on 1 November), which go down as well as their better-known tracks, showing that there are true fans of their music present, judging by the appreciation shown by everyone. All in all, we have been blessed in the devil's own pit with some exceptional bands through the night, with the supports all more than playing their parts, creating an exceptional evening of top-drawer music.
PHOTO CREDIT: Photos by the author.
All content © Über Rock. Not to be reproduced in part or in whole without the express written permission of Über Rock.