Words by DJ Monk. Photos by The Dark Queen.
Earlier this week, I commented about those rare occasions when you are actually attracted to a gig because of one or more bands on the undercard… Well, it doesn't happen for ages and then, kapow, two such shows come along within a few days of each other, which is why your ÜRHQ team found themselves taking up a last minute invitation to pop around to their local and catch up with those lovable Liverpudlian larrikins The Jokers, making a long overdue return to this corner of the Überverse, this time in support of Graham Bonnet and his latest legacy project, in the form of the resurrection of the long-defunct Alcatrazz brand…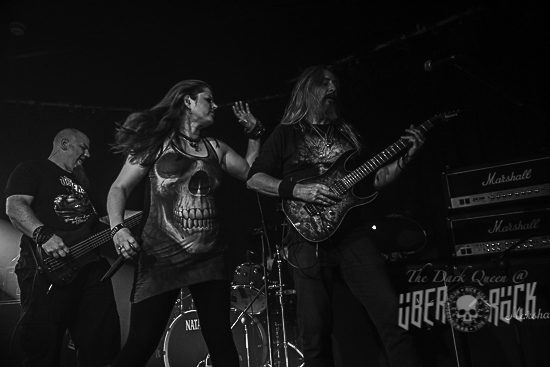 Early doors (it's 6pm tonight due to the venue's weekly acid house club afterwards) usually mean sparse crowds for the opening acts, but (judging by the crowd in the bar next door prior to the doors opening) thankfully a lot of fans seem to have come straight from work, and the room has filled up quite decently for openers Evyltyde. And the London crüe garner an equally decent reception for their brand of hard rock meets classic metal. Hannah Delany has a powerful voice, coupled with a good sense of humour and a decent stage presence, while Danny Merton cranks out some tasty riffs and solos as they do enough to entertain those earlycomers.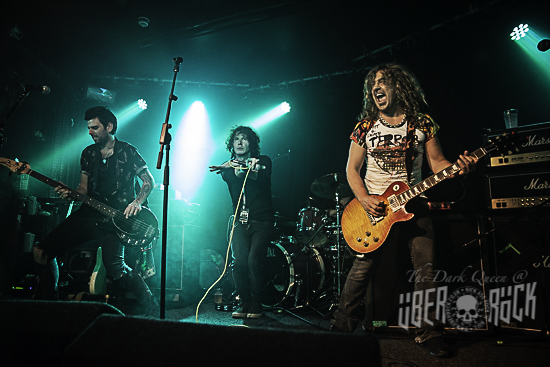 Making something like their fifth visit to this particular corner of the Überverse, The Jokers waste no time (well, it of the essence) in inviting us to "make some noise" – and we do just that, raising our voices high and our fists higher for their good-time no-nonsense rock 'n' roll, while Wane's cheekily cheesy introductions emphasize the good-natured manner of the set. The frontman's deep, rich vocals meld effortlessly with Paul's hard-edged classic rock riffs as they plough headlong and apace through a collection of songs many present obviously know, given the volume of the singalongs. While we possibly could have done with the nonetheless energetic cover of 'Pinball Wizard' (ffs guys, you've got three albums out and another on the way), it's a tight and thoroughly enjoyable set as the quartet prove that rock 'n' roll most definitely, and defiantly, is alive (hell, I'm wearing the T-shirt to prove it!) before they finish their all-too-brief time by taking us down, down, down to 'Silver City'. Hurry back lads…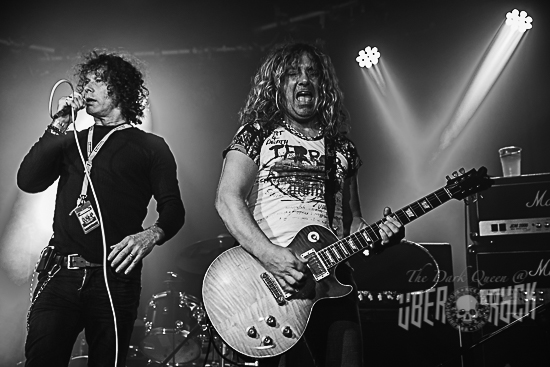 Of course, their set is truncated because they are, as referenced above, the main support act (even though they were allocated exactly the same running time as the openers, which is a bit unfair, in my book). So, I suppose it's only fair to append a few words about the headline act… and they are just a few… While Graham Bonnet himself is still in fine voice, it has to be said that the band are mediocre, and that's doing them a favour. With the 71-year old singer confined to a stool because of ongoing back problems, there is very little onstage movement: Joe Stump's sound is as flat and lifeless as his dialled in, by the book solos, with none of the charisma of the guitar heroes in whose footsteps he is following, while the irony of the evening is that the biggest pops go to the triptych of 'Since You Been Gone', 'All Night Long' and 'Lost In Hollywood', which are surpassed only by his solo hit 'Night Games'. Of course, the room is crammed with fans of a certain generation who just lap up all this legacy stuff, and so both Bonnet and the band receive a rapturous response.
The tour continues at Nightrain in Bradford tonight (Saturday 28 September), Bannerman's in Edinburgh tomorrow (Sunday 29 September), the Waterloo Music Bar in Blackpool on Monday (30 September) and the Robin 2 in Bilston on Tuesday (1 October).
PHOTO CREDIT: All photos © The Dark Queen/Über Rock. You can view our full gallery of photographs HERE.
All content © Über Rock. Not to be reproduced in part or in whole without the express written permission of Über Rock.